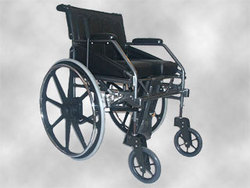 Studies by the American Health Care Association as well as the internationally respected Good Samaritan Society document that back injuries are the number one cause for workman's compensation claims across the care giving spectrum
Sioux Falls, SD (PRWEB) September 29, 2009
A South Dakota company is on course to change the way many wheelchair users live each day. Dignity Medical Devices first product release is a growing line of wheelchairs that allow the occupants of the chair to toilet throughout the day without the need for bodily transfer.
"There is perhaps no greater daily infringement on the dignity of a person confined to a wheelchair than requiring assistance in going to the bathroom" says Greg Johnson, co-inventor of the new Dignity Mobility Chair. "Submitting to being bodily transferred from one's wheelchair onto a toilet and then back again is a persistent psychological burden to the disabled and a sometimes crippling physical burden for the user of a wheelchair and the caregiver charged with performing the transfer - whether family member or professional medical staff."
Johnson tells the story: "This all begins with my mother, whose multiple sclerosis had advanced to the point where she needed day-long care to be able to transfer from her wheelchair to the toilet and back again. So, this story quickly became a story about my father as well.
"The simple truth is, as a direct result from her utilizing a Dignity chair, my mom is still living at home and my father has regained valuable freedom to go about his day. The dangers of toilet transfer for my mother and my father have been eliminated with the Dignity chair." With emphasis Johnson adds, "A Dignity chair is not a shower chair. It's not a commode chair. It's a custom built mobility chair that allows the occupant to roll to the bathroom, drop the interior seat, adjust their clothing, back all the way over the toilet, use the facility, roll away from the stool and return to comfortable, day-long living within this chair. There is absolutely nothing like it out there or we wouldn't have gone to these lengths to make this product happen. People can live at home longer. Wheelchair users will fall less. Caregivers will, on the average, be injured less as they work more efficiently and safely. The dollars and cents of it is that in every setting that we've studied, the Dignity mobility chair pays for itself in short order."
South Dakota ingenuity and investors are driving the start of this new company into what they see as a multi-tiered market. Earl Jacobson, current project manager notes, "Our custom built and adjustable wheelchairs allow a wide variety of users -- individuals like Greg's mom wanting to stay longer in their own home, but also residents in assisted living and skilled care facilities, workers wishing to be able to work independently on the job site, wheelchair bound students at school -- to be able to live their lives with greatly increased measures of independence and safety."
While the focus of the company creators was certainly on the safety and dignity issues of the users of wheelchairs, they are quickly realizing that the growing need to provide devices that promote injury prevention is an equally powerful reason to purchase Dignity mobility chairs. "Studies by the American Health Care Association as well as the internationally respected Good Samaritan Society document that back injuries are the number one cause for workman's compensation claims across the care giving spectrum," says Jacobson. "Our mobility chairs cut the number of dangerous lifts in a day to less than half," he adds.
Dignity founders point out that the health care industry is waking up to the staggering personal cost of performing these kinds of daily transfers. Johnson notes, "The new reality is that institutions are going to be increasingly responsible for paying both for the injuries of those who fall during a toilet transfer and the workman's compensation costs associated with caregiver injuries sustained while assisting residents. As the risk to the occupant of the wheelchair and the caregiver is lessened, our confidence grows in knowing that we are contributing to our nation's conversations pertaining to the changes in the quality and delivery of health care."
This September 2009, Dignity mobility chairs have been chosen to be a part of a risk prevention study overseen by the University of South Dakota medical school in partnership with the Good Samaritan Society. The Dignity mobility chair has been cleared for sale by the United States Food and Drug Administration. Visit dignitymedicaldevices.com for video, e-mail forms and more information.
###