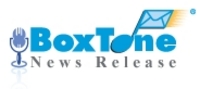 Enterprises, government agencies and Managed Service Providers take note – mobilization is happening, with or without you.
Columbia, MD (PRWEB) February 23, 2010
BoxTone(R), the expert in mobile user management, today announced predictions for the state of enterprise mobility management in 2015, providing a forecast for organizations in the implementation or planning stages of a comprehensive mobilization strategy.
Derived from interviews and surveys of mobility IT executives and support staff at BoxTone's more than 230 enterprise customers worldwide, the predictions suggest organizations will have to proactively adopt IT Service Management (ITSM) for mobility, delivered via an automated mobility management approach, to maintain the quality of service mobile workers and customers five years from now will demand.
"Enterprises, government agencies and Managed Service Providers take note – mobilization is happening, with or without you," said Alan Snyder, BoxTone CEO. "Smarter organizations are acting now to automate mobility management rather than waiting to be overrun when these predictions come true."
Enterprise Mobility Management Prediction #1: Enterprise-connected mobile device penetration will grow from 10-15 percent today, to upwards of 60-80 percent five years from now, with employee-owned devices leading the charge.
"The recent four-fold increase in employee-owned mobile devices documented in BoxTone-commissioned research will only accelerate toward enterprise penetration levels typical of laptops and desktops today," said BoxTone CEO Alan Snyder. "An enterprise-connected mobile device in almost every worker's pocket is now a virtual certainty."
Enterprise Mobility Management Prediction #2: Device and mobile delivery platform diversity will continue to expand, with most organizations moving from one mobile platform and a handful of approved devices, to least 2-3 mobile platforms and 15-20 different devices by 2015.
"With the consumerization of IT, employees are making smartphone choices based on a blend of personal and business needs. In response, enterprise IT will have no choice but to establish a portfolio of supported mobile platforms and devices – such as the BlackBerry and Apple iPhone platforms – and then define for each the level of support and services capabilities that will be made available, and the cost to provide them," said Snyder.
Enterprise Mobility Management Prediction #3: Enterprise mobile applications per user will extend from one critical set of applications – primarily email, PIM and calendaring today – to five critical applications per user by 2015. Already leading the mobile application wave are enterprise Instant Messaging (IM) and collaboration tools, followed by key business applications such as Customer Relationship Management (CRM), Sales Force Automation, Enterprise Resource Planning (ERP) applications tied to inventory and logistics, newsfeeds and corporate portals, and integrated Unified Communication (UC) clients.
"Like all great technology waves, mobilization dollars will flow to where the benefit is, and that's in enabling workers to generate more revenue, increase efficiency and reduce costs when working remotely," said Snyder.
Enterprise Mobility Management Prediction #4: Enterprise mobilization strategy will evolve from being focused solely on employee productivity, to one that includes customer engagement.
"Enterprise customers want to do business on their own terms, at any hour of the day and location. B2B procure-to-pay and vendor relation processes, as well as B2C order fulfillment and customer loyalty programs, will be firmly entrenched in most enterprises by 2015. Mobility is the new application delivery platform for all workers and consumers," said Snyder.
Enterprise Mobility Management Prediction #5: Mobile complexity will increase exponentially, placing severe pressure on IT's ability to deliver high quality service without either a large expansion in support resources or by leveraging automated, best-practices approaches to mobility management.
"The explosive growth in enterprise-connected mobile devices and applications, coupled with the desire of C-suite executives and department heads to mobilize the business, demands that mobility be threaded into core IT processes," concluded Snyder. "Rather than wait for these five predictions to come true, best-in-class organizations are turning to proactive IT Service Management for mobility to optimize service delivery and maximize user productivity."
BoxTone software uniquely brings together proactive IT Service Management (ITSM) best practices with proven Mobile User Management technology for executives looking to mobilize their businesses more effectively. BoxTone's modular architecture possesses a rare combination of ease of use, rapid time to value, broad functionality and rock-solid scalability, enabling mobile IT operations, mobile IT support and mobile business management to deliver the high quality of service and reliable remote productivity that mobile users demand, but at the lowest possible cost and risk to the business.
The secret is the BoxTone Core, a hardened, scalable platform built from the ground-up with patented SmartMP(TM) technology to auto-discover, monitor, analyze and control all aspects of a mobile environment.
Learn more about mobilizing the business through proactive IT Service Management at http://www.boxtone.com.
About BoxTone
BoxTone software is trusted by more than 230 of the world's leading enterprises and government agencies, including 70 in the Global 2000, to manage, monitor and support the BlackBerry smartphone platform, and the ActiveSync smartphone platform featuring Apple iPhone, Google Android, Palm WebOs, Nokia Symbian and Windows Mobile devices. Built on patented SmartMP(TM) technology and conforming to industry standard ITIL-ITSM best practices, BoxTone's modular software suite and role-specific consoles enable IT and services organizations to proactively improve mobile performance, reduce support costs and accommodate rapid smartphone growth, all while guaranteeing the high quality of service that mobile users demand. Learn more from the expert in mobile user management at http://www.boxtone.com, or call 1 410-910-3344.
BoxTone and the BoxTone logo are trademarks of BoxTone, Inc. The BlackBerry and RIM families of related marks, images and symbols are the exclusive properties and trademarks of Research In Motion Limited. All other product or company names mentioned are used for identification purposes only and may be trademarks of their respective owners.
###