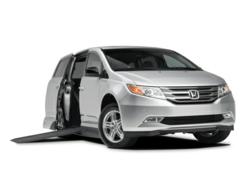 We're committed to ensuring that our dealers and consumers have a product they can trust the minute they turn the ignition switch.
Tea, SD (PRWEB) May 19, 2011
Mobility Sales, one of the nation's most preferred providers of mobility equipment, has today announced the availability of 2011 Honda Odyssey wheelchair vans with the VMI Northstar and Summit conversions. The new 2011 model handicap vans have been completely revamped for better convenience, comfort and safety on the road.
The Honda Odyssey has long been one of the favorite handicap vans on the market, simply due to its immense reliability and performance. The 2011 model is available in four trim levels (EX, EX-L, Touring and Touring Elite), all of which feature a 248-hp, V6 engine. VMI has taken great care in the design and implementation of their conversion systems.
According to Ted Larson, VP of Engineering with VMI, "We designed our wheelchair conversion of the 2011 Honda Odyssey minivan based on tools and systems acquired from our Lean Manufacturing and Six Sigma initiatives. Through these advanced manufacturing processes, our engineering team was able to pinpoint potential issues during development and correct them before production began. It's our way of staying true to the same core values that has made Honda one of the leading automotive manufacturers around the world."
One of the most impressive innovations found with these new wheelchair vans is the 12 3/4-inch dropped FLEX floor. This offers a significant improvement in ramp angle, but also offers far better maneuverability for individuals with physical disabilities confined to a wheelchair. The PowerKneel™ system has also been improved, providing better reliability and less noise during operation.
Of course, these wheelchair accessible vans have passed all FMVSS collision testing with flying colors, and are perhaps the safest handicap vans available today. According to VMI President, Doug Eaton, "We believe that merely meeting minimum safety requirements is not good enough. We're committed to ensuring that our dealers and consumers have a product they can trust the minute they turn the ignition switch."
The Northstar conversion features a 30-inch usable ramp width, with a 55-inch door height. Load capacity for the 2011 Northstar is 750 lbs. and it also features the SURE DEPLOY™ emergency backup system. The Summit conversion features a 55-inch door height and a 28 7/8-inch usable ramp width, and features a 600-lb. load capacity.
To find out more about the 2011 VMI Honda Odyssey wheelchair vans, visit http://www.MobilitySales.com.
About Mobility Sales: Mobility Sales has one goal – to provide their customers with the highest quality mobility solutions possible. They offer an immense inventory of wheelchair vans, wheelchair lifts and mobility equipment designed to give handicapped individuals greater freedom and more control over their lives.
###