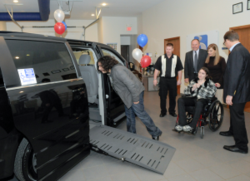 (Vocus/PRWEB) April 14, 2011
Mobility Works in Chicago has given the gift of mobility to Chris Medina and his fiancée Juliana Ramos. The ex-singer on American Idol and Ramos were presented with a donated wheelchair van in Chicago, in early March. Ramos was disabled after an accident in 2009, when her car skidded out of control and impacted a pole.
Mobility Works, in conjunction with industry-leader BraunAbility, decided to donate the wheelchair van to help the struggling couple. It had taken three people to help Ramos in and out of vehicles, and the new handicap van will make it easier for the couple to do ordinary activities once more. Even something as simple as going to see a movie was a difficult process for the pair, though they remained positive about it.
Mobility Works presented Ramos and Medina with a converted 2010 Dodge Grand Caravan, fully equipped with advanced mobility equipment. The wheelchair van's 10-inch lowered floor offers easier access for Ramos' wheelchair, while the ground-level wheelchair lift also offers greater convenience. In addition, the van is equipped with a folding wheelchair ramp.
Both driver and passenger front seats feature removable seat bases, allowing Ramos to get behind the wheel once her recovery has moved along. With the help of steering wheel hand controls, she will one day be able to driver herself.
When presented with the van, Ramos smiled happily. According to Medina, "She said I did this for her and I did a good job," Medina said.
According to Ramos' mother, Janet Barnes, "We're no more deserving than any other family and yet they reached out to us. It's wonderful, wonderful." Medina and Ramos' mother are both hopeful for her recovery, and Ramos is definitely making progress.
Both Ramos and Medina are incredibly grateful for the outpouring of support and empathy for the pair, and the well wishes from total strangers have given Ramos added confidence as she recuperates. It truly is a remarkable story of a community coming together to support one of their own.
About Mobility Sales: Mobility Sales has one goal – to provide their customers with the highest quality mobility solutions possible. They offer an immense inventory of wheelchair vans, wheelchair lifts and mobility equipment designed to give handicapped individuals greater freedom and more control over their lives.
###