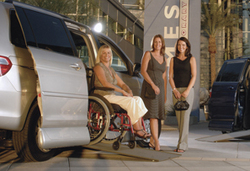 Tea, SD (Vocus) October 20, 2010
Mobility Sales, a long-time leader in the mobility industry, now offers their customers the chance to own a Honda Odyssey wheelchair van with a full conversion kit to meet their mobility needs.
The Honda Odyssey minivan has garnered headlines around the world for its reliability, style, comfort and drivability. Mobility Sales takes all of these ingredients and adds the highest quality handicap conversion to the mix. The result is the Honda Odyssey handicap van, now available for those with physical handicaps. The goal is to provide customers with the solutions required to regain their mobility and their sense of independence.
The Honda Odyssey wheelchair van features conversion equipment designed by Vantage Mobility International, a leading name in the manufacture of handicap equipment. New and used minivans are now available for customers, fully equipped with a range of wheelchair-friendly features. These innovative features include a lowered floor to provide greater headroom, an in-floor power ramp to make entering and exiting the vehicle as simple as possible, a power kneel, rubberized flooring and more.
Mobility Sales now offers these vehicles to their customers to ensure that they are able to go where they want, when they want. In addition to the equipment listed above, Mobility Sales also offers other features for handicapped drivers, such as wheelchair hand controls that allow wheelchair-bound individuals to once again get behind the wheel.
Finally, Mobility Sales now gives their customers the ability to setup a test drive of the Honda Odyssey wheelchair van with a simple phone call. This ensures that a full demonstration of the equipment and a test drive of the vehicle can be scheduled at the customer's convenience.
Mobility Sales provides their customers with the means to meet their mobility requirements, whatever they might be, now. From wheelchair vans like the Odyssey to a vast line of new mobility equipment, any mobility need can now be met with this company.
To find out more about wheelchair vans and mobility equipment offered by Mobility Sales, visit http://www.MobilitySales.com.
About Mobility Sales: Mobility Sales has one goal – to provide their customers with the highest quality mobility solutions possible. They offer an immense inventory of wheelchair vans, wheelchair lifts and mobility equipment designed to give handicapped individuals greater freedom and more control over their lives.
###