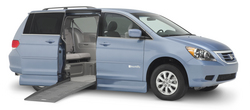 Tea, SD (Vocus) October 26, 2010
Mobility Sales, a leader in providing the highest quality mobility solutions to handicapped individuals, now offers their customers access to industry-best handicap vans and wheelchair lifts. In their drive to provide their customers with access to the equipment and accessories necessary to regain their freedom, Mobility Sales ensures that handicapped individuals are able to enjoy a higher quality of life.
MobilitySales.com now provides their customers with access to the industry-best wheelchair vans – the Honda Odyssey. Fully outfitted with a VMI conversion kit, these vans offer tremendous amounts of freedom, comfort and security. For instance, they are outfitted with a slide-in wheelchair ramp, as well as a spacious floor plan that ensures those in wheelchairs are able to manoeuvre quite well.
Of course, the lowered floor ensures plenty of headroom, while the wheelchair tie downs provide the best security possible. For those individuals who really wish to make the most of their lives, these handicap vans are also available with hand controls to make driving a simple matter.
For those customers who do not need new wheelchair vans, Mobility Sales offers access to the highest quality wheelchair lifts in the industry. These provide handicapped individuals with easy ingress and egress, as well as industry-best operation and durability. Wheelchair lifts now available through Mobility Sales include the Ricon Clearway, the Klearvue and the Ricon Reliant, all of which provide powerful operation, plenty of performance and the durability that today's consumers demand.
For those who need a helping hand, but do not require wheelchair lifts, Mobility Sales can provide scooter lifts in a variety of different styles, sizes and capacities. Ranging from the VMI Elite G2 to the VMI Excel, the Outback and the Outback ST, customers will now find any model they might require.
Mobility Sales now provides their customers with the highest quality equipment and accessories, from wheelchair vans to required wheelchair lifts and much, much more.
To find out more about wheelchair vans and mobility equipment offered by Mobility Sales, visit http://www.mobilitysales.com.
About Mobility Sales: Mobility Sales has one goal – to provide their customers with the highest quality mobility solutions possible. They offer an immense inventory of wheelchair vans, wheelchair lifts and mobility equipment designed to give handicapped individuals greater freedom and more control over their lives.
###