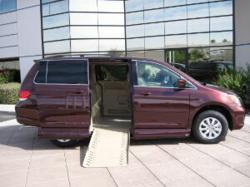 (Vocus/PRWEB) April 08, 2011
VMI has released the results of their Federal Motor Vehicle Safety Standards testing by the National Highway Safety Administration, giving consumers greater transparency and empowering informed buying decisions.
Vantage Mobility International (VMI) has long been a recognized leader in the mobility industry, with an established presence in the world of wheelchair vans, as well as mobility accessories and equipment. The release of testing scores for their conversion vans is a part of the company's move toward the greatest transparency possible, helping to ensure their customers are able to purchase the best solution for their needs, and understand their safety risks at the same time.
VMI, in conjunction with the National Mobility Equipment Dealers Association, has released the NHSA:FMVSS for the full run of VMI products, including the Chrysler Town and Country, the Dodge Grand Caravan and the industry-leading Honda Odyssey, all of which were tested equipped with VMI's conversion systems installed.
In addition, this marks the first time in history that consumers have been able to access safety information about these various vehicles from a single online source: NMEDA. Previously, information was scattered on various websites and within industry publications. With NMEDA's new Compliance Review Program, customers can access safety information about various handicap vans directly from the Internet. The process is completely confidential, as well, with no need for an exchange of personal information to view the safety test results.
All three vehicles offered through VMI received "Pass" ratings during impact testing. Areas tested included rear impact, side impact and frontal impact, as well as pull testing. All wheelchair vans performed admirably during the testing process, and ranked very high with the NHSA.
According to Vantage Mobility International, "VMI will continue to release our safety test results because we want our dealers and customers to be confident that our conversions are an extension of the OEMs high standards of quality, reliability and safety. We believe the best decision is an informed decision, which is why we're empowering our customers with a full disclosure of our safety records. We hope to motivate others in the market to be as conscientious about safety as our team."
About Mobility Sales: Mobility Sales has one goal – to provide their customers with the highest quality mobility solutions possible. They offer an immense inventory of wheelchair vans, wheelchair lifts and mobility equipment designed to give handicapped individuals greater freedom and more control over their lives.
###