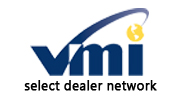 (PRWEB) December 23, 2011
Alamo Mobility has proclaimed they've joined the VMI SDN (Select Dealer Network), to take advantage the highly effective structure constructed by VMI by means of Mobility Sales.com.
The Select Dealer Network is a resourceful project devised to support VMI dealerships pool their resources and formulate a leading web site through which consumers can contact each dealership in the network. The website selected for this is MobilitySales.com, a site with a solid past and track record in the mobility business. Through MobilitySales.com, Alamo Mobility will get a determined marketing location for selling handicap vans and mobility services. This enables more efficient spending of Internet marketing funds, as well as allowing dealerships to get their product to a new audience.
In addition to better marketing strength and a significantly raised internet appearance, Alamo Mobility gets entire instruction in handling Web buyer leads and how to track leads through the efficient allotment system.
The Select Dealer Network has been flourishing in a short time-- launched in 2008, the SDN has helped to acquire considerably larger amounts of buying individuals than what any partaking dealership experienced prior to its formation.
The SDN allows participating mobility dealers to develop mutual awareness into company problems and the ability to enhance relationships within the mobility industry. Dealers are also able to have a strong voice inside VMI (Vantage Mobility International), as well as clear, candid conversation within the organization.
Alamo Mobility is extremely excited about belonging the Select Dealer Network, and anticipates an equally useful connection with every dealers.
About Alamo Mobility: With a combined experience of over 100 years in sales and service, Alamo Mobility aims to make you feel like part of their family Alamo Mobility is the largest dealer in South Texas and is committed to helping you reach your goals.
###