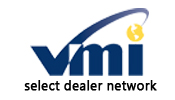 (PRWEB) December 19, 2011
Arizona Mobility Products has proclaimed they have aligned with the VMI SDN (Select Dealer Network), to take advantage of the highly effective system put together by VMI through Mobility Sales.com.
The Select Dealer Network is an innovative initiative originated to support VMI dealerships to pool their resources and establish a dominant website through which individuals can contact each dealer in the system. The domain selected for this is MobilitySales.com, a site with a solid past and track record in the mobility business. Through MobilitySales.com, Arizona Mobility Products will acquire a specified marketing section for promoting mobility vehicles and mobility products. This enables more effective spending of Web marketing funds, in addition to permitting dealers to get their message before a new market.
In addition to greater marketing power and a greatly raised online presence, Arizona Mobility Products receives teaching in managing Internet customer leads and training on how to track prospects through the efficient allotment system.
The Select Dealer Network has been thriving in a short time-- launched in 2008, the SDN has helped to acquire dramatically greater numbers of buying consumers than what any partaking dealer experienced prior to its creation.
The SDN allows participating mobility providers to build mutual understanding into company problems, and the ability to enhance partnerships within the mobility industry. Dealers are also able to enjoy a strong voice inside VMI (Vantage Mobility International), as well as open, straightforward dialogue inside the network.
Arizona Mobility Products serves the Phoenix Metro, West Valley, East Valley, Prescott, Flagstaff, and the surrounding communities in the North Valley. With the largest inventory of wheelchair accessible minivans and full-size wheelchair vans in Arizona, Arizona Mobility Products is confident they have the right wheelchair accessible vehicle, mobility equipment and handicap products to perfectly suit your individual accessibility needs and budget.
Arizona Mobility Products is very delighted about belonging to the Select Dealer Network, and looks forward to a mutually favorable partnership with every dealer.
About Arizona Mobility Products: Arizona Mobility Products prides itself in offering a quality handicap accessible vehicle product, new or used wheelchair vans, and mobility scooter lifts at the best possible prices, with a promise to our clients of complete satisfaction in their purchase for many years to come. Arizona Mobility Products is a locally owned one stop mobility shopping experience.
###