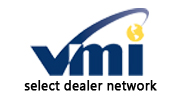 (PRWEB) December 23, 2011
Bedco Mobility has revealed they've aligned with the VMI SDN (Select Dealer Network), to take advantage of the highly effective network made by VMI by means of Mobility Sales.com.
The Select Dealer Network is a revolutionary project designed to assist VMI dealerships pool their resources and construct a dominant website whereby customers can reach each dealership in the network. The website chosen for this is MobilitySales.com, a site with a solid past and track record in the mobility business. With MobilitySales.com, Bedco Mobility will receive a defined marketing territory for supplying wheelchair accessible vehicles and mobility products. This enables more useful spending of Web marketing money, in addition to permitting dealers to get their message before a new market.
In addition to greater advertising power and a significantly increased internet presence, Bedco Mobility receives full teaching in regulating Internet buyer leads, as well as how to track prospects through the efficient allocation process.
The Select Dealer Network has been thriving in a short time-- launched in 2008, the SDN has helped to accrue dramatically greater amounts of purchasing individuals than what any partaking dealership experienced before its formation.
The SDN permits taking part mobility providers to build mutual insight into company issues, and also strengthen partnerships within the mobility industry. Dealerships are also able to have a strong voice within VMI (Vantage Mobility International), as well as open, straightforward conversation within the organization.
Bedco Mobility is very thrilled about being a member of the Select Dealer Network, and anticipates a mutually favorable partnership with every dealer.
About Bedco Mobility: Founded in 1912 as Baltimore Elevator Company, Bedco Mobility was one of the first companies to recognize the need to provide mobility products to people with disabilities. Bedco Mobility is a family owned and operated and their goal is to make every client part of their extended family.
###