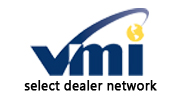 (PRWEB) December 23, 2011
Frontier Access & Mobility has announced they've connected with the VMI SDN (Select Dealer Network), to take advantage the effective organization constructed by VMI by means of Mobility Sales.com.
The Select Dealer Network is a progressive project formed to assist VMI dealerships pool their resources and create an effective website whereby consumers can reach each dealership in the system. The site selected for this is MobilitySales.com, a site with a successful past and history in the mobility business. As a result of MobilitySales.com, Frontier Access & Mobility will get a specified marketing territory for selling wheelchair accessible vans and mobility services. This enables more efficient spending of Internet marketing funds and also permits dealers to get their product in front of a new market.
In addition to better advertising strength and a dramatically raised web existence, Frontier Access & Mobility receives entire education in handling Web buyer leads and training on how to record leads through the successful allotment technique.
The Select Dealer Network has been succeeding quickly-- started in 2008, the SDN has helped to acquire dramatically higher amounts of buying individuals than what any partaking dealer experienced prior to its formation.
The SDN permits taking part mobility dealers to build mutual awareness into business issues and also strengthen connections within the mobility business. Dealers are also able to experience a strong voice inside VMI (Vantage Mobility International) and clear, honest conversation inside the organization.
Frontier Access & Mobility is extremely excited about belonging to the Select Dealer Network, and looks forward to an equally beneficial association with every dealer.
About Frontier Access & Mobility: Founded in March of 1996, Frontier Access & Mobility is a specialty provider for medical equipment and supplies. They also sell access equipment such as stairway elevators, vertical platform lifts and lowered floor minivan conversions. Frontier Access & Mobility currently serves customers throughout Wyoming, Colorado, and Nebraska.
###