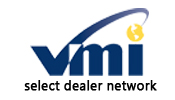 (PRWEB) December 20, 2011
Handicap Conversions, Inc. has proclaimed that they have associated with the VMI SDN (Select Dealer Network), to utilize the effective system built by VMI by means of Mobility Sales.com.
The Select Dealer Network is a resourceful project formed to support VMI dealerships pool their powerful resources and formulate a dominant web site whereby individuals can reach each dealership in the organization . The domain chosen for this is MobilitySales.com, a site with a successful history and reputation in the mobility business. With the help of MobilitySales.com, Handicap Conversions, Inc. will obtain a defined marketing territory for promoting handicap accessible vehicles and mobility products. This enables more useful spending of Internet marketing money, in addition to allowing dealers to get their product to a new crowd.
In addition to greater marketing power and a greatly increased web appearance, Handicap Conversions, Inc. receives full training in handling Web buyer leads, as well as how to track leads through the efficient allotment system.
The Select Dealer Network has been prospering quickly-- launched in 2008, the SDN has helped to bring in dramatically larger amounts of buying customers than what any partaking dealer experienced prior to its formation.
The SDN permits taking part mobility providers to build mutual awareness into company problems, and also enhance connections within the mobility industry. Dealerships are also able to enjoy a strong voice within VMI (Vantage Mobility International), as well as open, candid discussion inside the organization.
Handicap Conversions, Inc. is extremely delighted about being a member of the Select Dealer Network, and expects a mutually useful connection with every dealership.
About Handicap Conversions, Inc.: Handicap Conversions, Inc. is based out of Kansas City, Missouri. The entire team is dedicated to helping you be limited only by your imagination. The staff is a team of creative innovators who are familiar with the leading mobility products and mobility equipment installations to help you customize your way into a fully mobile lifestyle.
###