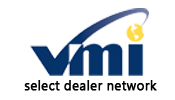 (PRWEB) December 20, 2011
Mobility Express has revealed they've taken part in the VMI SDN (Select Dealer Network), to take advantage of the highly effective network made by VMI by means of Mobility Sales.com.
The Select Dealer Network is an effective initiative created to help VMI dealerships pool their methods and create a dominant website whereby individuals can contact each dealership in the organization. The website chosen for this is MobilitySales.com, a site with a successful past and reputation in the mobility business. With the help of MobilitySales.com, Mobility Express will receive a defined marketing section for promoting handicap accessible vehicles and mobility items. This ensures more useful spending of Web marketing funds, and also allows dealers to get their information in front of a new crowd.
In addition to increased advertising strength and a greatly raised internet existence, Mobility Express gets complete instruction in regulating Internet customer prospects, as well as how to record leads through the successful allocation system.
The Select Dealer Network has been flourishing quickly-- founded in 2008, the SDN has helped to bring in dramatically greater amounts of buying consumers than what any partaking dealership experienced before its creation.
The SDN enables taking part mobility providers to build mutual awareness into business issues, as well as enhance relationships within the mobility business. Dealers are also able to enjoy a strong voice throughout VMI (Vantage Mobility International), in addition to open, honest conversation inside the organization.
Mobility Express is very delighted about being a member of the Select Dealer Network, and expects an equally useful relationship with all dealers.
About Mobility Express: Since the founding in 1985, the guiding principal of Mobility Express has been to elevate the quality of people's lives. Mobility Express was built on a foundation of unmatched professionalism and a comprehensive range of mobility and accessibility equipment and services. From custom power chairs and scooters to elevators, wheelchair vans and complete home modifications, Mobility Express is a one-stop resource for consumers, medical professionals, caretakers, trust managers, and more. Contact Mobility Express at http://www.MobilitySales.com.
###