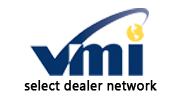 (PRWEB) December 20, 2011
New England Wheels has announced they've associated with the VMI SDN (Select Dealer Network), to utilize the effective network built by VMI through Mobility Sales.com.
The Select Dealer Network is a resourceful project designed to help VMI dealerships pool their powerful resources and establish a dominant internet site through which buyers can contact each dealership in the network. The domain selected for this is MobilitySales.com, a site with a solid history and track record in the mobility business. As a result, New England Wheels will get a defined marketing section for selling wheelchair vehicles and mobility solutions. This allows more useful spending of Web marketing funds, and also authorizes dealers to get their product to a new public.
In addition to greater advertising strength and a significantly increased internet presence, New England Wheels gets full training in regulating internet buyer leads, as well as how to record leads through the efficient allotment process.
The Select Dealer Network has been thriving quickly-- established in 2008, the SDN has helped to accrue considerably higher amounts of buying customers than what any participating dealership experienced before its creation.
The SDN enables taking part mobility dealers to build mutual insight into company problems, and in addition strengthen connections within the mobility industry. Dealerships are also able to enjoy a strong voice amongst VMI (Vantage Mobility International), as well as clear, truthful communication inside the network.
New England Wheels is very delighted about belonging to the Select Dealer Network, and looks forward to a useful relationship with every dealership.
About New England Wheels:
For over 25 years New England Wheels has been Setting the Standard in the Transportation industry. We offer an extensive line of raised roof wheelchair accessible vans, paratransit vehicles, multi-passenger shuttle vans, and executive limousine vans all based on the reliable Ford E-Series van chassis.
# # #