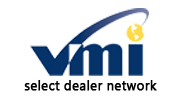 (PRWEB) December 20, 2011
Access and Mobility Products has declared they have joined the VMI SDN (Select Dealer Network), to take advantage of the powerful network constructed by VMI with Mobility Sales.com.
The Select Dealer Network is actually an impressive initiative designed to help VMI dealerships pool their sources as well as create a dominant website through which customers can easily extend to each dealership in the network. The domain selected for this is actually MobilitySales.com, a site with a proven history as well as standing in the business. Through MobilitySales.com, Access and Mobility Products is going to receive an advertising area for marketing handicap vehicles and mobility products. This allows more efficient spending of Internet marketing funds, as well as permitting dealerships to get their message in front of a new audience.
In addition to better advertising power as well as a significantly increased on-line existence, Access and Mobility Products gets complete training in regulating Web customer leads, as well as exactly how to track leads through the reliable distribution system.
The Select Dealer Network has actually been enormously profitable in a brief time-- started in 2008, the SDN has aided to produce in notably greater numbers of purchasing consumers than what every taking part in dealership experienced prior to its development.
The SDN enables engaging mobility providers to construct a mutual understanding of company issues, as well as bolster partnerships within the industry. Providers are additionally ready to enjoy a strong voice within VMI (Vantage Mobility International), as well as candid discussion within a closed communication loop.
Access and Mobility Products is extremely excited about being an associate of the Select Dealer Network, and looks forward to a rich, mutually beneficial partnership with all associate suppliers.
About Access and Mobility Products: We are a family owned and operated company
founded by Robert Murdock in 1998. We are currently in our 11th year of business and
plan to continue our outstanding service & commitment to our customers. With hundreds of powerchairs and scooters, over 1500 lifts, as well as many stairlifts, porch lifts, ceiling lifts, bath lifts, ramps and more installed, we can give you expert advice and professional service that is fully backed by an experienced repair team at http://www.MobilitySales.com.
###