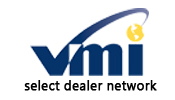 (PRWEB) December 20, 2011
Wheelchair Getaways has revealed they've aligned with the VMI SDN (Select Dealer Network), to take advantage of the strong system assembled by VMI through Mobility Sales.com.
The Select Dealer Network is an effective initiative designed to support VMI dealerships pool their resources and create an effective internet site through which buyers can reach each dealer in the system. The site selected for this is MobilitySales.com, a site with a demonstrated past and recognition in the mobility business. As a result, Wheelchair Getaways will obtain a defined marketing location for marketing handicap accessible vans and mobility services. This allows more effective spending of online marketing money, as well as authorizing dealerships to get their message to a new audience.
In addition to increased advertising strength and a greatly increased internet existence, Wheelchair Getaways is given entire instruction in regulating Web customer leads, in addition, how to track leads through the efficient allotment system.
The Select Dealer Network has been flourishing in a short time-- established in 2008, the SDN has helped to acquire significantly larger numbers of buying buyers than what any partaking dealership experienced before its formation.
The SDN allows participating mobility providers to develop mutual understanding into business problems, and also enhance relationships within the mobility business. Dealers are also able to enjoy a strong voice amongst VMI (Vantage Mobility International), in addition to open, straightforward conversation inside the organization.
Wheelchair Getaways is extremely delighted about belonging the Select Dealer Network, and anticipates a jointly useful association with all companies.
About Wheelchair Getaways: Wheelchair Getaways of CT is committed to providing you with access to the best mobility products on the market. They are a fully authorized dealers for Vantage Mobility International in Connecticut with a staff of Certified Mobility Consultants who can help you to find exactly what you need with minimal hassle. Whether you're in the market for a wheelchair lift, a scooter lift or a wheelchair conversion van, we have great options available to you at http://www.MobilitySales.com
###