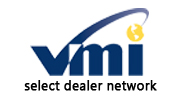 (PRWEB) December 20, 2011
Auto Mobility Sales has declared they've connected with the VMI SDN (Select Dealer Network), to utilize the effective network constructed by VMI by means of Mobility Sales.com.
The Select Dealer Network is a revolutionary project formed to assist VMI dealerships pool their resources and develop an effective internet site whereby customers can reach each dealer in the system. The site selected for this is MobilitySales.com, a site with a successful history and track record in the mobility business. As a result Auto Mobility Sales will gain a specified marketing section for promoting handicap accessible vehicles and mobility products. This permits more effective spending of Web marketing funds, and also authorizes dealers to get their product before a new market.
In addition to improved advertising strength and a considerably raised internet existence Auto Mobility Sales is given complete training in managing online consumer leads, as well as how to track prospects through the successful allocation system.
The Select Dealer Network has been prospering quickly-- started in 2008, the SDN has helped to accrue dramatically larger amounts of purchasing individuals than what any participating dealer experienced prior to its creation.
The SDN allows taking part mobility dealers to develop mutual awareness into business issues, and also strengthen relationships within the mobility business. Dealerships are also able to enjoy a strong voice amongst VMI (Vantage Mobility International), and also clear conversation within the network.
Auto Mobility Sales is extremely excited about being a member of the Select Dealer Network, and looks forward to an equally beneficial partnership with all dealerships.
About Mobility Sales: Auto Mobility Sales has been serving people with disabilities in all of South East Florida for many years. Whether you live in Miami, Boca Raton, West Palm Beach, or Boynton Beach, Auto Mobility Sales has a large selection of wheelchair accessible vans, full size handicap vans with lifts, wheelchair lifts, and other mobility vehicles for sale in FL.
# # #