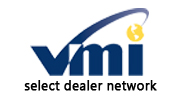 (PRWEB) December 19, 2011
New Horizon Vans has announced they have joined the VMI SDN (Select Dealer Network), to use the dynamic organization built by VMI through Mobility Sales.com.
The Select Dealer Network is an effective project designed to help VMI dealerships merge their resources and create an effective website whereby customers can reach each dealer in the system. The domain chosen for this is MobilitySales.com, a site with a proven past in the mobility business. Through MobilitySales.com, New Horizon Vans will acquire a specified marketing area for marketing handicap vans and mobility merchandise. This allows for better spending of online marketing dollars, as well as allowing dealerships to get their message to new customers.
In addition to greater marketing power and a considerably increased online presence, New Horizon Vans receives full instruction in managing Internet customer leads and how to record leads in the system.
The Select Dealer Network has been immensely successful quickly-- established in 2008, the SDN has assisted to accrue substantially higher numbers of buying customers than what any participating dealership experienced before its beginning.
The SDN allows taking part mobility dealers to build a shared understanding into company concerns, in addition to strengthening relationships within the industry. Dealers are also able to enjoy a solid voice within VMI (Vantage Mobility International), as well as open, honest discussion.
New Horizon Vans is proud to provide high quality mobility vehicles to customers in New Mexico. With a wide selection of wheelchair vans, mobility lifts, handicap driving controls, as well as wheelchair van conversions, New Horizon Vans is committed to exceeding our customers' expectations with mobility van and mobility product inventory.
New Horizon Vans is very thrilled about being a member of the Select Dealer Network, and anticipates a rich, mutually advantageous partnership with all members.
About New Horizon Vans: New Horizon Vans, Inc. has been providing freedom through accessible vehicles to our customers for over twenty years. In our early years we primarily installed wheelchair lifts and hand controls for people striving to regain their independence in New Mexico and Texas.
###