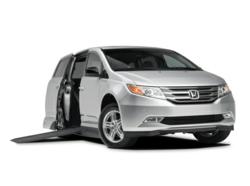 Tea, SD (PRWEB) July 14, 2011
Mobility Sales, a dedicated provider of mobility equipment, wheelchair lifts and handicap vans, has today announced the availability of mobility vehicles outfitted with VMI's most advanced PowerKneel™ system.
VMI is easily one of the most recognizable names in the modern mobility industry and is synonymous with innovation, quality, comfort and safety. The all-new second-generation PowerKneel system included with the company's wheelchair van conversions.
VMI's PowerKneel system is a forward-thinking design that actually reduces the ride height of wheelchair vans, making it simpler, easier and safer for individuals with physical handicaps to enter the van. The system operates by compressing the rear suspension and dropping the van to the height of the axles. VMI's PowerKneel system received immense praise when it debuted, but the company remains committed to ensuring they continue to offer their customers the very best performance, reliability and dependability possible.
Key enhancements made with the second-generation PowerKneel system include a manual release for better safety, as well as reduced noise during operation. Improved reliability and an easy-access design for better maintenance were also included. The electro-hydraulic actuator designed for the new system also uses less electricity, and the power ramp extends from the undercarriage of the handicap van. The result is the best power kneeling system available on the market, and offers immense reliability and ease of use to owners.
VMI's PowerKneel system is currently available with their Northstar conversion, featured on 2011 Honda Odyssey vans. The addition of this second-generation kneeling system is just one more reason why the Northstar conversion is perhaps the most innovative and beneficial option on the market for consumers seeking the highest quality wheelchair van.
To find out more about the VMI PowerKneel™ system, and the 2011 VMI Honda Odyssey wheelchair vans, visit http://www.MobilitySales.com.
About Mobility Sales: Mobility Sales has one goal – to provide their customers with the highest quality mobility solutions possible. They offer an immense inventory of wheelchair vans, wheelchair lifts and mobility equipment designed to give handicapped individuals greater freedom and more control over their lives.
###