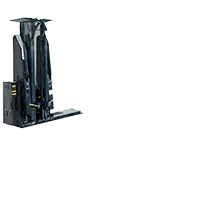 Tea, South Dakota (PRWEB) June 02, 2011
Mobility Sales, a leading provider of mobility equipment and handicap vans, has today announced the addition of VMI's cutting-edge second generation Slide-Away platform lift for installation in wheelchair vans. The Slide-Away combines innovative design, powerful functionality and the longevity and durability only available from VMI.
Wheelchair lifts have long been used to make it simpler for individuals with physical disabilities to get into and out of a vehicle. However, the problem with most lifts was that they simply took up too much room, making it difficult for others to enter. A single-post lift was the traditional answer to this problem, though they lacked the same performance capabilities and durability found with dual-post lifts.
The Ricon Slide-Away wheelchair lift offers the best of all worlds. The second tower travels toward the front of the vehicle when the lift needs to be in use, extending it to its full dimensions. However, when the lift does not need to be used, the second tower travels toward the rear of the vehicle, and the lift folds up neatly into a compact position. This allows clear and easy access to all wheelchair accessible vans for able-bodied persons, as well as not obstructing the view the way some other wheelchair lifts can.
The new Slide-Away platform lift represents the pinnacle of nearly 20 years of innovation and ingenuity, and also provides some newly offered features. For instance, customers will find a pressure relief valve built into the pump now, as well as a remodeled outdoor barrier made from extruded aluminum to lessen the lift's weight. The compact design also ensures that passengers are able to enjoy full access and functionality in the passenger-front seat, such as fully inclining the seat.
The new Slide-Away wheelchair lift has a 600-lb weight capacity, but an 800-lb installation kit is available for those with greater lifting requirements. A pendant remote control offers the ability to manipulate the lift from inside or outside of wheelchair vans, but the new Ricon Slide-Away also features a switch arm for manual control and safety.
The new Ricon Slide-Away wheelchair lift offers impressive durability and reliability, in conjunction with the most advanced design in the industry. It's never been easier to enjoy convenience and easy access to wheelchair accessible vehicles.
To find out more about the new Slide-Away platform lift, visit http://www.MobilitySales.com.
About Mobility Sales: Mobility Sales has one goal – to provide their customers with the highest quality mobility solutions possible. They offer an immense inventory of wheelchair vans, wheelchair lifts and mobility equipment designed to give handicapped individuals greater freedom and more control over their lives.
###