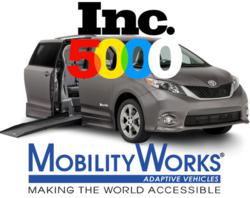 This achievement reflects on our commitment to quality service. You don't succeed without having loyal customers
Akron, OH (PRWEB) August 26, 2011
MobilityWorks, the leading handicap vans and adaptive equipment retailer in the United States and the largest conversion manufacturer of commercial vans for transporting disabled riders, was named to the prestigious Inc. 5000 to be published by Inc. magazine in their September issue. The annual designation is coveted by the business community for its recognition of America's fastest-growing private companies.
Inc. 500 and Inc. 5000 companies are chosen based on their percentage of revenue growth rate for the past three years (2007 through 2010). To qualify, companies must be based in the United States, be a privately held for-profit company, and not be a subsidiary or division of a larger corporation. They must also have a minimum $2 million in sales revenue for 2010.
With a 28% 3-year growth rate, and $78.2 million in revenue, MobilityWorks is one of only 7 retailers headquartered in Ohio to make it on the list. This year's retail category totaled 204 companies nationwide, with a combined 31% growth rate. What MobilityWorks is really proud of though is their ability to make it to Honor Roll status, a special designation given only to those currently on the list and having also appeared 5 times or more in previous years. This is is the 6th Year for MobilityWorks to be named an Inc. 5000 company dating back to 2005.
"The longer you make it on the Inc. 5000, the harder it gets to stay there" said Guy Hanford, Director of Marketing for MobilityWorks. "Since it's based on improving growth over a number of years, you have to be doing some extraordinary things year after year". Recent growth at MobilityWorks has been attributed to the opening of several new retail store locations, expanded product lines such as the Conquest Motorcycle and with the acquisition of Accubuilt Mobility in January 2010, a long-standing rival in the commercial vans market. "This achievement reflects on our commitment to quality service. You don't succeed without having loyal customers," added Hanford.
According to the Inc.com, the median revenue of its 2011 Inc. 5000 companies was $10.7 million with 51 employees. Between 2007 and 2010, Inc. 5000 companies created 370,592 new jobs for the economy.
About MobilityWorks
MobilityWorks is the largest U.S. retailer of wheelchair vans and handicap driving equipment serving the disabled community now with 14 showroom locations in seven states. The MobilityWorks Commercial division is Ford Motor Company's largest mobility upfitter in the commercial van industry. The Inc 5000 company is also the largest installer of wheelchair lifts in the country, converting handicap accessible vans for businesses and healthcare providers that transport wheelchair passengers. MobilityWorks has also been recently selected as an Inner City 100 company, an annual recognition of the fastest growing inner-city companies in America nominated by the Initiative for a Competitive Inner City (ICIC.org). For additional information about MobilityWorks, go to http://www.mobilityworks.com.
###