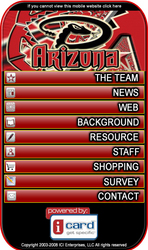 Companies would be quite surprised to learn how many people are visiting their site from a cell phone. It's important to make the visit a favorable experience so they come back
Scottsdale, AZ (PRWEB) July 30, 2008
Businesses spend an exorbitant amount of valuable time and money to make their web sites look as professional and as user friendly as possible.
The people at MobiWeb are encouraging those web site owners to take the mobile challenge: Check out your own web site on a mobile phone. Chances are the site either looks jumbled or with distracting fonts, and is hard to read and navigate.
Now check out http://www.MobiWeb.mobi on the phone. Looks just like it would on a computer and that's available at no charge whatsoever. There's also premium cards available at http://www.iCardMe.com/Hitech, which has drop down menus, smooth text and hyperlinks.
That's what MobiWeb believes every site could - and deserves to - look like.
With the introduction of web-based mobile phones like the iPhone and Instinct, more and more consumers are using the Internet on their phone. But while the technology to get the Internet on the phone has been escalating, most businesses have lagged in getting their web site up to date.
"Companies would be quite surprised to learn how many people are visiting their site from a cell phone. It's important to make the visit a favorable experience so they come back," said founder and CEO Sandy Kosloff.
A few new startups have been trying to catch up with the time and offer phone services, but MobiWeb has anticipated this phenomenon since its inception in 2002. That allows MobiWeb to offer everything a company would need to get their Web site to be Internet phone friendly at one place. Ordering now gets in on the ground floor as many of the services are currently free in BETA form.
MobiWeb believes their proprietary platform will help achieve their goal, which is to create the largest and the best mobile search directory, allowing MobiWeb to work with any domain extension available (.com, .net, .org, .biz, .mobi, etc.). MobiWeb also offers live technical assistance and support to help through every obstacle that comes up.
And best of all, much of it is completely free. At MobiWeb.mobi, businesses can get all their contact information available on a sleek-looking page for free. It is not time consuming either, and can take as little as 10 minutes to order and 10 minutes to set up.
MobiWeb does offer premium services at a reasonable cost for businesses with more demanding needs. This includes audio, video, a survey panel and a shopping panel for merchants to sell their products. To see what a premium site could look like, click here.
"Free MobiWeb is a great opportunity for companies to get connected to the wireless world and our custom cards are quite inexpensive compared to the cost of developing it themselves, which could easily be several thousand dollars," Kosloff said.
MobiWeb is perfect for entertainers and musicians as well at http://www.iCardEntertainment.com. Entertainers can sell their music, set up surveys to rate their performances and can make their site secure so mobile users can purchase their music.
MobiWeb is also perfect for sports figures and athletes at http://www.iCardSports.com.
The iCards are not only easy to order, they are easy to use. They can be stored on a phone or computer under your favorites, or can be e-mailed as a link.
And MobiWeb is constantly looking to improve existing offers, while developing new services so the business owner can focus on what they do best: sell their product.
Kosloff said, "We've been focused on the technology for almost six years. Now we're looking to extend licensing agreements to the right companies."
About MobiWeb
MobiWeb is a subsidiary of ICI Enterprises, LLC. For more information or to order, visit http://www.MobiWeb.mobi or call 602-820-1300.
###