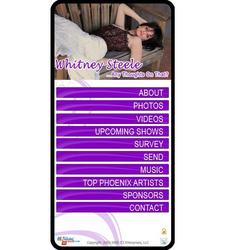 Tourists and residents can get all the information about www.GoMobiWeb.com/Train [Phoenix Light Rail] in the palm of their hands
Scottsdale, AZ (PRWEB) March 31, 2009
GoMobiWeb, a leader in the design of mobile Web sites for mobile advertising and entertainment, announces the launch of its shopping panel, designed to provide businesses and entertainers a way to sell products and music over mobile devices. Entertainers and celebrities can use the shopping panel in conjunction with MobiWeb® to cash in on their news, photos, tour dates, music and include an optional survey panel for gathering ratings, comments and feedback on anything from music, performances or performance attire.
"MobiWeb presents a whole new world of opportunity to retailers who want to sell products over cell phones," says Sandy Kosloff, founder of ICI Enterprises and MobiWeb. "Our new shopping panel places a cash register in the palm of the consumer's hand and the new survey panel gathers important feedback from customers!"
"Millions and millions of people search the Web from a cell phone every day. It's important for companies to provide a favorable experience when someone visits their site from a mobile device, and MobiWeb provides that mobile friendly experience!"
With MobiWeb's shopping panel, fans can easily buy and download music from their favorite artists, and rate that music right from their handheld devices, allowing entertainers to see the impact their music is having on their audiences. Entertainers can also use Mobiweb to feature videos. MobiWeb provides entertainers traffic reports, describing who is using Mobiweb and what people are buying from the page, a helpful tool in measuring fan response.
Entertainers can also use a MobiWeb mobile Web site to cash in on revenue received from sponsors (split 50/50) and can earn a 10 percent referral fee for listings that upgrade to MobiWeb, i.e., a MobiWeb holder who has a favorite artist listed on the card receives a referral fee when that artist upgrades to MobiWeb. Visitors click on the MobiWeb link and get connected to that mobile Web site.
Up-and-coming artist Whitney Steele, voted female singer and songwriter of the year in Arizona in 2008, loves her MobiWeb. "I use it as my Web site and it's a great way to stay in touch with my fans and have my music rated!" Steele says. Visit Whitney's MobiWeb site at http://www.GoMobiWeb.com/wsteele.
In addition to its accessibility from mobile devices, cell phones and smartphones, MobiWeb also works on PCs, and can be promoted like any other Web site. MobiWeb's flexible format allows it to be used with an existing Web site or in conjunction with traditional and non-traditional ad programs, including online search ads, display ads, banners, e-mail programs, print ads, business cards, radio, TV, billboards, stickers, labels and more.
LightRailNetwork.com recently introduced a mobile version of its directory, http://www.GoMobiWeb.com/Train, where the site is adding entertainment venues and restaurants and is looking forward to receiving a 10 percent referral fee as these listings upgrade to MobiWeb. With MobiWeb, restaurants can list their menus and add a shopping panel for take-out orders, and cell phone visitors can check out quality sites that they can read and navigate.
"Tourists and residents can get all the information about Phoenix Light Rail in the palm of their hands," says Randy Luethye, owner of LightRailNetwork.com. "It's convenient and it offers great value for consumers shopping near the rail. We're loading it with coupons, discounts and downtown event information! We're adding an entertainment section so visitors can easily check out MobiWeb sites of local artists."
MobiWeb provides many other benefits as well, including: the option of adding multiple pages; flexibility of use with any domain extension; beautiful, engaging, unique and interactive formats that allow a business to preserve the look and feel of its company, Web site, branding and logo; MobiWeb's Quick Connect service, allowing customers to quickly get connected to any phone number listed on a MobiWeb account with the click of a button; and an optional merchant panel offering a great new opportunity for retailers to sell their products over cell phones.
In addition, anyone with a MobiWeb site or another mobile friendly site can get a free listing at PdOOP®, MobiWeb's mobile search directory, which provides quick, convenient and engaging information about people and businesses.
About MobiWeb:
The MobiWeb family and ICI Enterprises, LLC are committed to delivering personable and professional service, one customer at a time. Prices for MobiWeb start at $795-plus ($199/yr. hosting). For more information on MobiWeb and the PdOOP mobile advertising and search directory, use a smartphone, cell phone or PDA to visit MobiWeb online at GoMobiWeb.com, call 602-820-1300, or email CustomerService (at) GoMobiWeb (dot) com.
###