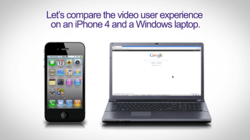 Mobile operators can hand over control of the video viewing experience to their customers without payment or complications.
San Jose, CA (PRWEB) July 27, 2011
Mobixell Networks, a leading global provider of rich media mobile data solutions, today announced availability of a clientless solution to enable viewing of Adobe® Flash® video content on Apple® iOS devices. With this announcement, Mobixell Seamless Access 5, the company's flagship product, provides a clientless solution enabling mobile operators to deliver Adobe Flash video content to subscribers using an Apple® iPhone® or iPad®. This represents a competitive advantage for mobile operators who can now champion the solution for a problem that irritates many high-value customers when content is not supported by their devices.
Over the last 4 years, tens of millions of mobile customers have chosen mobile operators based on their desire for an Apple iPhone or iPad. With more than 200 million devices running Apple iOS1, customers' expectations have been high as they've taken delivery of some of the most advanced and intuitive mobile devices ever invented. But expectations are not met when customers find they cannot watch video or browse many popular sites on their devices because their device does not support Adobe Flash technology. This has led to a considerable amount of frustration as subscribers do not always know why they cannot see sites in the same way they can on their desktop and laptop computers.
The lack of support for Adobe Flash technology on iOS devices has created problems for mobile operators, as well – being held responsible by subscribers for the problem, for example, and increased calls to customer service to fix the problem. There are partial client-based solutions available for subscribers; however, they need to be downloaded and installed individually by each customer, weakening the operator's ability to control the quality of their subscribers' user experience. The Seamless Access 5 clientless solution performs real-time server-side adaptation of Adobe Flash video content to the format supported by the Apple HLS (HTTP Live Streaming) protocol. This helps mobile operators to ensure consistently high quality of experience for all subscribers.
With Mobixell Seamless Access, now subscribers can not only view video content encoded with Adobe Flash technology – which represents most of the streamed video content available today – but they will soon also be able to browse websites which make use of Adobe Flash animation technology without downloading apps.
"Being able to deliver Adobe Flash video content on Apple iOS devices gives mobile operators a great competitive advantage by improving the user experience for their most valuable customers," explained Noam Green, VP Marketing at Mobixell. "Mobixell Seamless Access runs on the operator's network. So, mobile operators can hand over control of the video viewing experience to their customers without payment or complications: just a smooth, uninterrupted browsing, navigating and viewing experience."
Watch a video demonstration of Mobixell Seamless Access enabling Adobe Flash video content on Apple iOS devices. For more information, visit http://www.mobixell.com/flash-on-ios.
About Mobixell:
Mobixell Networks is a global provider of rich media, mobile Internet and broadband solutions. Mobixell's flagship product, Seamless Access, enables mobile operators to intelligently manage, optimize, and monetize the surging mobile data and video traffic while giving subscribers an exceptional user experience. Mobixell has more than 350 deployments, including Verizon, Vodafone, Bharti, Orange, and Telefonica, providing specially adapted services in Mobile Video and TV, Mobile Internet and Broadband, and Mobile Messaging. Founded in late 2000, Mobixell is a U.S.-based company with additional offices in the UK, Germany, Switzerland, India, China and Israel.
For more information, visit:
http://www.mobixell.com.
http://www.mobixell.com/blog
###