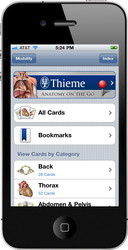 Keeping pace with rapidly evolving digital content platforms is a priority for Thieme
Durham, NC (Vocus) October 19, 2010
Modality, Inc. and Thieme Medical Publishers today announced the Anatomy on the Go App is available on the App Store. This native app for iPhone and iPod touch combines a variety of customization, quizzing and self-assessment tools with 367 exquisite full-color illustrations and contextual notes from Thieme's Anatomy on the Go Flash Cards, edited by Anne M. Gilroy and based on the award-winning Atlas of Anatomy by Gilroy et al.
"Keeping pace with rapidly evolving digital content platforms is a priority for Thieme," said Anne Vinnicombe, Thieme's Vice-President and Director of Educational Publishing. "Anatomy on the Go for iPhone and iPod touch is a valuable addition to our existing portfolio of web-based products like the Thieme Teaching Assistant and WinkingSkull.com and the native iPad version of our Atlas of Anatomy, available in the modalityBODY app."
The Anatomy on the Go App includes the following features:

Innovative Multi-Touch user interface navigation through 367 full-color annotated images
Custom pinpoint and structure labeling
Quiz Mode to test mastery of must-know anatomy
Bookmarking to provide quick reference in clinical settings or course review sessions
Comprehensive index to quickly locate any structure in the app
Study Mode for image and annotation browsing
Instant access to additional information on Google, Wikipedia and PubMed
"Content selection is a key component of our user experience design process," said Nate O'Keefe, director of publishing at Modality. "It was clear from the outset that Thieme and Modality share the same commitment to elegance, clarity, and attention to detail, and we look forward to continuing to grow our catalog together in the future."
The Anatomy on the Go App is available for $19.99 from the App Store on iPhone and iPod touch or at http://www.itunes.com/appstore/.
For more information on Modality's complete catalog of health sciences training and reference apps for iPhone, iPod touch and iPad please visit http://www.modality.com.
About Modality, Inc.
Modality is the premier developer of interactive learning, assessment, training and reference applications for the iOS platform. Partnering with the world's leading publishers and content experts, Modality creates mobile user experiences informed by more than a decade of educational technology design. Since the App Store launched in July 2008 Modality has released more than 140 apps for iPhone®, iPod touch®, and iPad™ in partnership with Elsevier, McGraw-Hill Professional, Pearson, The Princeton Review, Thieme Medical Publishers, Inc., John Wiley & Sons, Wolters Kluwer, and Workman Publishing Co., among others. Founded in 2006, Modality is headquartered in Durham, North Carolina.
About Thieme
Thieme Publishing Group is a scientific and medical publishing house employing more than 950 people and maintaining offices in six cities, including New York, Delhi, Stuttgart and three other locations in Germany. Founded in 1886, the Thieme name has become synonymous with high quality and excellence in medical and scientific publishing. Today, Thieme is the market leading publisher of neurosurgical content and holds strong market positions in orthopedics, radiology, anatomy and chemistry, among other specialties. Thieme publishes 137 peer-reviewed journals and over 500 new books annually. The company also has a rapidly growing array of web-based products in medicine and science. State-of-the-art online products include Thieme eJournals, Thieme Electronic Book Library, the medical student website WinkingSkull.com and Thieme Teaching Assistant, an innovative web-based platform for faculty. For more information about Thieme, please visit http://www.thieme.com.
###