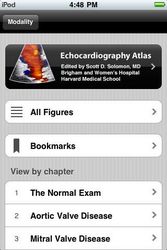 The ability to quickly and accurately read an echocardiogram is critical to delivering appropriate patient care
Durham, NC (Vocus) March 17, 2010
Modality, Inc. today announced its Echocardiography Atlas is now available on the App Store. This app is comprised of 250 annotated images and 189 videos, encompassing a wide range of cardiac pathology. Echocardiography Atlas is edited by Scott D. Solomon, MD, of Brigham and Women's Hospital and Harvard Medical School.
"The ability to quickly and accurately read an echocardiogram is critical to delivering appropriate patient care," according to Dr. Solomon, who directs the Noninvasive Cardiac Laboratory and serves as an Associate Professor at Harvard Medical School. "This app for iPhone and iPod touch serves as an introductory learning tool for students, or a comprehensive visual reference for cardiologists, cardiac surgeons, internists, other physicians and sonographers."
Echocardiography Atlas presents users with twelve chapters of normal and abnormal echocardiograms, encompassing a wide range of cardiac pathology, and utilizes a custom viewer solution created by Modality that allows users to watch detailed, looping echocardiograms. Leveraging the innovative Multi-Touch user interface of iPhone and iPod touch, users may zoom and pan while the stacked images play, or pause to manipulate frame by frame. Like all Modality apps, content is locally stored on the device to deliver rapid access, without the need for a network connection.
"The iPhone and iPod touch are ideal platforms for viewing and interacting with medical images," said Nate O'Keefe, director of publishing for Modality. "Dr. Solomon's echocardiogram collection and expert editorial content provided Modality a tremendous opportunity to bring a completely new tool to App Store customers, while expanding our catalog of clinical reference and education apps."
The Echocardiography Atlas App is available for $29.99 from the App Store on iPhone and iPod touch or at http://www.itunes.com/appstore/
About Modality, Inc.
Modality is the premier developer of digital learning, assessment, training and reference applications for Apple handheld devices. Partnering with the world's leading publishers and content experts, Modality creates mobile user experiences informed by more than a decade of educational technology design.
Modality was selected by Apple as one of the first developers to work with the iPhone SDK, delivering four of the first 500 apps available in the App Store when it launched in July 2008. Since then, the company has released more than 130 apps for iPhone® and iPod touch® in partnership with Elsevier, McGraw-Hill Professional, Pearson, The Princeton Review, John Wiley & Sons, Wolters Kluwer, and Workman Publishing Co., among others.
###