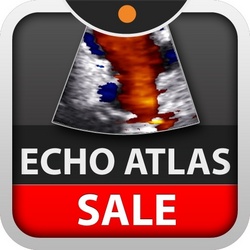 Cardiovascular ultrasound technology is advancing rapidly, which leads to better patient care and, ultimately, more lives saved
Durham, NC (Vocus) June 13, 2010
Durham, NC – June 13, 2010 -- Modality, Inc. today announced its Echocardiography Atlas is available at a promotional price of $19.99 during the American Society of Echocardiography 21st Annual Scientific Sessions, June 13-15 in San Diego, CA.
This app, regularly $29.99, is comprised of 250 annotated images and 189 videos, encompassing a wide range of cardiac pathology. Echocardiography Atlas is edited by Scott D. Solomon, MD, of Brigham and Women's Hospital and Harvard Medical School. The application is designed as a native application for iPhone and iPod touch, and is compatible with iPad.
"Cardiovascular ultrasound technology is advancing rapidly, which leads to better patient care and, ultimately, more lives saved," according to Dr. Solomon, who directs the Noninvasive Cardiac Laboratory and serves as an Associate Professor at Harvard Medical School. "Interactive imaging applications that can be carried conveniently on a mobile device unlock new opportunities for clinical training and patient education."
Echocardiography Atlas presents users with twelve chapters of normal and abnormal echocardiograms, encompassing a wide range of cardiac pathology, and utilizes a custom viewer solution created by Modality that allows users to watch detailed, looping echocardiograms. Leveraging the innovative Multi-Touch user interface of iPhone, iPod touch and iPad, users may zoom and pan while the stacked images play, or pause to manipulate frame by frame. Like all Modality apps, content is locally stored on the device to deliver rapid access, without the need for a network connection.
The Echocardiography Atlas App is available for $19.99 from the App Store on iPhone and iPod touch or at http://www.itunes.com/appstore/.
For more information on Modality's complete catalog of health sciences training and reference apps for iPhone, iPod touch and iPad please visit http://www.modality.com.
About Modality
Modality is the premier developer of interactive learning, assessment, training and reference apps. Partnering with the world's leading publishers and content experts, Modality creates mobile user experiences informed by more than a decade of educational technology design. Since the App Store launched in July 2008, Modality has released more than 140 apps for iPhone®, iPod touch® and iPad™ in partnership with Elsevier, CSI, McGraw-Hill Professional, Pearson, The Princeton Review, Thieme Publishers, John Wiley & Sons, Wolters Kluwer, and Workman Publishing Co., among others. Founded in 2006, Modality is headquartered in Durham, North Carolina. Visit http://www.Modality.com for more information.
###