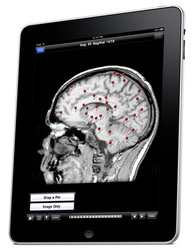 The size and quality of the iPad display, combined with its portability and ease of use, makes it a revolutionary device for interacting with medical images
Durham, N.C. (Vocus) April 21, 2010
Modality, Inc. today announced its modalityBODY App for iPad is now available on the App Store. This free app offers a groundbreaking anatomy and medical image reference and training solution for health sciences professionals. Sylvius MR: Atlas of the Human Brain and a sampler of the Atlas of Anatomy, published by Thieme Publishers, are available now to modalityBODY users for free. A variety of paid and free premium content sets will be made available for In App Purchase or download from within the app in the coming weeks.
"The size and quality of the iPad display, combined with its portability and ease of use, makes it a revolutionary device for interacting with medical images," explains S. Mark Williams, Ph.D., CEO and founder of Modality, Inc. "The modalityBODY App for iPad is a gateway that allows users to create extensive, customized image libraries of the human body for professional reference, training, and patient education."
Users of the modalityBODY App for iPad may create their own medical image reference library from world-class, commercially available anatomical and medical imaging atlases, as well as clinical case images created by users themselves or drawn from publicly available open source databases. Images may be annotated with custom labels to identify anatomical structures and mark important features. As images and notes are added to modalityBODY, they are simultaneously added to the app's local database, which can be searched to locate specific anatomical landmarks and data points anywhere within the user's entire modalityBODY library. Fast access to Google, Wikipedia, and PubMed for additional information on specific structures is available with a network connection.
"The time-saving value of modalityBODY for reference, training, and patient education in clinical settings is significant," said Williams. "Carrying books from room to room on patient rounds is impractical. Downloading detailed images from the web oftentimes isn't even possible, given network connections within many large facilities. The modalityBODY App for iPad eliminates those hurdles to effective communication by providing instant access to a customized set of key instructive medical images."
In addition to interacting with images individually, users have the option to view content in modalityBODY's Page Mode, which displays content from published medical atlas titles as they appear on the printed page. "The iPad's large screen allows us to preserve the valuable page layout, tables and contextual notes that the authors, editors and publishers created for the original source materials," Williams explains. "Building modalityBODY to offer maximum flexibility to our users and content partners was a key objective in our design process."
Modality will regularly curate and expand the content offerings of the app to deliver a compelling balance of educational and professional reference image sets from bestselling brands and emerging leaders in the field of health sciences imaging, learning and assessment. Content partners featured in the modalityBODY Store currently include Pyramis Studios and Thieme Publishers.
The modalityBODY App for iPad is available for free from the App Store on iPad or at http://www.itunes.com/appstore/.
For more information on Modality's complete catalog of health sciences training and reference apps for iPhone, iPod touch and iPad please visit http://www.modality.com.
About Modality
Modality is the premier developer of interactive learning, assessment, training and reference apps. Partnering with the world's leading publishers and content experts, Modality creates mobile user experiences informed by more than a decade of educational technology design. Since the App Store launched in July 2008 Modality has released more than 130 apps for iPhone®, iPod touch®, and iPad™ in partnership with Elsevier, CSI, McGraw-Hill Professional, Pearson, The Princeton Review, Thieme Publishers, John Wiley & Sons, Wolters Kluwer, and Workman Publishing Co., among others. Founded in 2006, Modality is headquartered in Durham, North Carolina. Visit http://www.Modality.com for more information.
###