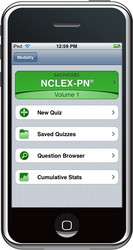 Modality's NCLEX prep apps are a lifesaver
Durham, NC (Vocus) July 15, 2010
Modality, Inc., the premier mobile learning architects for iPhone®, iPod touch® and iPad™, today reported that nursing students are embracing NCLEX prep on iPhone and iPod touch with its popular line of nursing apps. The National Council Licensure Examination, or NCLEX, is a required examination that tests the entry-level nursing competence of candidates. According to the National Council of State Boards of Nursing, who administers the exam, more than 285,000 individuals took the NCLEX-RN and NCLEX-PN examinations between October 2008 and September 2009.
Modality's NCLEX prep series, created in partnership with Elsevier, offer hundreds of board-style questions in each app. A customizable quiz dashboard and detailed assessment tools create a unique on-the-go study opportunity for nursing students. Questions are categorized according to content area, and statistics reflect the user's strong and weak spots to deliver a more streamlined approach to studying.
"Modality's NCLEX prep apps are a lifesaver," commented nursing student Christy Cryan. "No books to lug around and I can study anytime I want to." Question browser mode provides unscored review of any and all content sections, and each app includes the ability to bookmark and save specific questions for further study.
"Nursing students have to complete thousands of review questions in preparation for the NCLEX, adding up to weeks, even months of studying," said Nate O'Keefe, director of publishing at Modality. "The iPhone and iPod touch are revolutionary devices that users want to carry with them everywhere. Our apps enable students to prep for the NCLEX wherever they are, in whatever time they have available; whether it's a few minutes to answer a handful of questions or an hour to tackle a comprehensive quiz. Customers have reported that it's an ideal way to get through the daunting volume of material."
Modality's NCLEX test prep catalog spans 13 apps, from three popular Elsevier series:

Mosby's Review Questions for the NCLEX-RN® Exam: Childbearing and Women's Health, Medical-Surgical, Mental Health, and Pediatric
Saunders Q&A Review for the NCLEX-RN, 6 volumes
Saunders Q&A Review for the NCLEX-PN, 3 volumes
These apps, ranging from $15.99 to $29.99, are available from the App Store or at http://www.itunes.com/appstore/.
For more information on Modality's complete catalog of nursing education apps for iPhone, iPod touch and iPad please visit http://www.modality.com
About Modality, Inc.
Modality is the premier developer of interactive learning, assessment, training and reference apps. Partnering with the world's leading publishers and content experts, Modality creates mobile user experiences informed by more than a decade of educational technology design. Since the App Store launched in July 2008 Modality has released more than 140 apps for iPhone®, iPod touch®, and iPad™ in partnership with Elsevier, CSI, McGraw-Hill Professional, Pearson, The Princeton Review, Thieme Publishers, John Wiley & Sons, Wolters Kluwer, and Workman Publishing Co., among others. Founded in 2006, Modality is headquartered in Durham, North Carolina. Visit http://www.Modality.com for more information.
About Elsevier
Elsevier is a world-leading publisher of scientific, technical and medical information products and services. Working in partnership with the global science and health communities, Elsevier's 7,000 employees in over 70 offices worldwide publish more than 2,000 journals and 1,900 new books per year, in addition to offering a suite of innovative electronic products, such as ScienceDirect, MD Consult, Scopus, bibliographic databases, and online reference works.
Elsevier (http://www.elsevier.com/) is a global business headquartered in Amsterdam, The Netherlands and has offices worldwide. Elsevier is part of Reed Elsevier Group plc, a world-leading publisher and information provider. Operating in the science and medical, legal, education and business-to-business sectors, Reed Elsevier provides high-quality and flexible information solutions to users, with increasing emphasis on the Internet as a means of delivery. Reed Elsevier's ticker symbols are REN (Euronext Amsterdam), REL (London Stock Exchange), RUK and ENL (New York Stock Exchange).
# # #