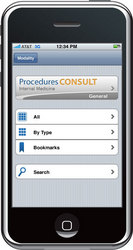 Proper training and review greatly diminishes medical errors and enhances patient care
Durham, NC (Vocus) September 24, 2009
Modality, Inc. and Elsevier, Inc. today announced two Procedures Consult Internal Medicine applications are available on the App Store. These iPhone and iPod touch apps help physicians, medical residents and students prepare for, perform and test their knowledge of the most common medical procedures encountered in a clinical setting.
Both apps feature a dynamic blend of high-quality expert video, illustrations, animations and text to provide easy access to procedures information, without need for a network connection. Procedures Consult Internal Medicine – General highlights 25 procedures, from abdominal paracentesis to transvenous pacing. Procedures Consult Internal Medicine – Musculoskeletal offers overviews of 22 procedures for splinting, arthrocentesis and dislocation reduction.
"Proper training and review greatly diminishes medical errors and enhances patient care," said Randy Charles, Managing Director of Elsevier's Global Clinical Research Group. "The Procedures Consult online training suite, and now the mobile applications for iPhone and iPod touch, take the medical education adage 'See one, do one, teach one' and make it even easier for students and physicians to build skills and streamline the healthcare process."
Nate O'Keefe, Director of Publishing for Modality, said, "Medical education and training remains the core focus of Modality, just as it has been since the company was formed. The Procedures Consult apps illustrate the exciting learning opportunities that arise when exceptional content is reinvented for the revolutionary user interface and media capabilities of iPhone and iPod touch."
Each Procedures Consult application is available for $39.99 from the App Store on iPhone and iPod touch or at http://www.itunes.com/appstore/
About Modality, Inc.
Modality believes every moment can be a learning moment. By taking the most trusted, relevant educational content on the market and reinventing it for the small screen, Modality creates mobile learning applications that fully engage users with the material they need to know. Anywhere, anytime, right on their favorite devices. Modality's content partners include Aspen Publishers, Elsevier, Lippincott Williams & Wilkins, McGraw-Hill, Pearson, The Princeton Review, John Wiley & Sons, and Workman Publishing Co. Visit http://www.Modality.com for more information.
About Elsevier
Elsevier is a world-leading publisher of scientific, technical and medical information products and services. Working in partnership with the global science and health communities, Elsevier's 7,000 employees in over 70 offices worldwide publish more than 2,000 journals and 1,900 new books per year, in addition to offering a suite of innovative electronic products, such as ScienceDirect, MD Consult, Scopus, bibliographic databases, and online reference works.
Elsevier (http://www.elsevier.com/) is a global business headquartered in Amsterdam, The Netherlands and has offices worldwide. Elsevier is part of Reed Elsevier Group plc, a world-leading publisher and information provider. Operating in the science and medical, legal, education, and business-to-business sectors, Reed Elsevier provides high-quality and flexible information solutions to users, with increasing emphasis on the Internet as a means of delivery. Reed Elsevier's ticker symbols are REN (Euronext Amsterdam), REL (London Stock Exchange), RUK, and ENL (New York Stock Exchange).
###