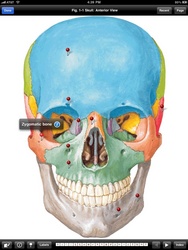 Modality's core mission is to design compelling mobile experiences that support our users and extend the value of our partners' content
Durham, NC (Vocus) September 8, 2010
Modality, Inc. today announced the release of four new content sets from Elsevier for use in the modalityBODY App for iPad. Netter's Advanced Head and Neck Flash Cards, Netter's Anatomy Flash Cards, Netter's Concise Radiologic Anatomy, and Netter's Musculoskeletal Flash Cards are now available for In App Purchase via the modalityBODY App.
The modalityBODY App allows users to view, organize, annotate, search and store thousands of medical images and create custom image collections for study and reference. The store within the app offers a variety of world-class anatomical and medical imaging atlases and flash cards, all with native iPad image quality. Users may combine these collections with their own images to create a robust library of anatomical reference material. Custom structure labels and annotations may be added to any image, and a powerful visual cross-referencing index is maintained for all structures across all volumes in the app.
"Elsevier's partnership with Modality brought our Netter's anatomy product line to the App Store on Day 1. We are thrilled to now have this content as part of a native iPad app that showcases the Netter catalog as it's never been seen on a mobile device," said Randy Charles, managing director, Global Clinical Reference for Elsevier. "The brilliant display and innovative Multi-Touch user interface enables our student and professional audience to explore structural details, share accurate anatomical imagery with patients, and customize these content sets to speed their study and workflow."
"Modality's core mission is to design compelling mobile experiences that support our users and extend the value of our partners' content," notes S. Mark Williams, Ph.D., CEO and founder of Modality, Inc. "Over the last fifty years, millions of medical personnel have relied on Frank Netter's artwork to illuminate their understanding of human anatomy. Today, new trainees and seasoned professionals can integrate this hallmark content into their practice effortlessly, thanks to the ease of use and portability of the modalityBODY App on iPad."
The modalityBODY App is available for free from the App Store on iPad or at http://www.itunes.com/appstore/.
A variety of paid and free premium content sets are available for In App Purchase or download from within the app.
For more information on Modality's complete catalog of health sciences training and reference apps for iPhone®, iPod touch® and iPad please visit http://www.modality.com.
About Modality, Inc.
Modality is the premier developer of interactive learning, assessment, training and reference apps. Partnering with the world's leading publishers and content experts, Modality creates mobile user experiences informed by more than a decade of educational technology design. Since the App Store launched in July 2008 Modality has released more than 140 apps for iPhone®, iPod touch®, and iPad™ in partnership with Elsevier, McGraw-Hill Professional, Pearson, The Princeton Review, Thieme Medical Publishers, Inc., John Wiley & Sons, Wolters Kluwer, and Workman Publishing Co., among others. Founded in 2006, Modality is headquartered in Durham, North Carolina. Visit http://www.Modality.com for more information.
About Elsevier
Elsevier is a world-leading publisher of scientific, technical and medical information products and services. The company works in partnership with the global science and health communities to publish more than 2,000 journals, including The Lancet and Cell, and close to 20,000 book titles, including major reference works from Mosby and Saunders. Elsevier's online solutions include ScienceDirect, Scopus, Reaxys, MD Consult and Nursing Consult, which enhance the productivity of science and health professionals, and the SciVal suite and MEDai's Pinpoint Review, which help research and health care institutions deliver better outcomes more cost-effectively.
A global business headquartered in Amsterdam, Elsevier (http://www.elsevier.com) employs 7,000 people worldwide. The company is part of Reed Elsevier Group PLC, a world-leading publisher and information provider, which is jointly owned by Reed Elsevier PLC and Reed Elsevier NV.
###