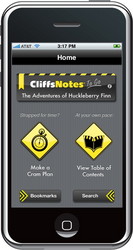 Early sales and user reviews of the CliffsNotes-To-Go apps demonstrate that students appreciate having this material on their iPhones and iPod touches
Durham, NC. (Vocus) March 9, 2010
Modality, Inc., and Wiley Publishing, Inc., today announced that 31 more CliffsNotes® literature study guide applications are available in the Apple App Store. Selected in September 2009 as part of Apple's App Store "High School Survival Guide," the CliffsNotes-To-Go series delivers interactive review tools and self-assessment quizzes for success-minded students.
Students can begin to explore the CliffsNotes-To-Go series by downloading CliffsNotes Romeo and Juliet for iPhone® and iPod touch® - available for free download from now until March 15.
Modality's content architects created two distinct review modes to allow for a more customizable study experience. A prescriptive "Cram Plan," created by the experts at CliffsNotes, orders the content of the app to maximize even small increments of study time. A more traditional e-reader interface presents the app's complete content in a fashion similar to that of the printed literature notes. Additional features that leverage the innovative Multi-Touch user interface and revolutionary capabilities of iPhone and iPod touch include:

Multiple-choice quiz assesses mastery of the material
Text-highlighting notes important sections for further review
Interactive map links character associations and profiles for quick reference
Audio plot summaries play in the background while the user engages with other app features
"Early sales and user reviews of the CliffsNotes-To-Go apps demonstrate that students appreciate having this material on their iPhones and iPod touches," said Cindy Kitchel, vice president and publisher, Wiley Professional/Trade publishing. "Students turn to the Cliffs brand when they need clear, reliable review materials. We're excited to be working with Modality to deliver that content in an engaging, customizable mobile format."
The following CliffsNotes literature study guides are now available for $0.99 per application from Apple's App Store on iPhone and iPod touch or at http://www.itunes.com/appstore:
1984 by George Orwell
A Midsummer Night's Dream by William Shakespeare
A Tale of Two Cities by Charles Dickens
All Quiet on the Western Front by Erich Maria Remarque
Animal Farm by George Orwell
Atlas Shrugged by Ayn Rand
Beowulf
Brave New World by Aldous Huxley
Fahrenheit 451 by Ray Bradbury
Frankenstein by Mary Shelley
Great Expectations by Charles Dickens
Hamlet by William Shakespeare
Jane Eyre by Charlotte Brontë
Julius Caesar by William Shakespeare
King Lear by William Shakespeare
Macbeth by William Shakespeare
Othello by William Shakespeare
Paradise Lost by John Milton
Pride and Prejudice by Jane Austen
The Adventures of Huckleberry Finn by Mark Twain
The Canterbury Tales by Geoffrey Chaucer
The Catcher in the Rye by J.D. Salinger
The Crucible by Arthur Miller
The Grapes of Wrath by John Steinbeck
The Great Gatsby by F. Scott Fitzgerald
The Iliad by Homer
The Kite Runner by Khaled Hosseini
The Lord of the Flies by William Golding
The Odyssey by Homer
The Old Man and the Sea by Ernest Hemingway
The Scarlet Letter by Nathaniel Hawthorne
Their Eyes Were Watching God by Zora Neale Hurston
Things Fall Apart by Chinua Achebe
To Kill a Mockingbird by Harper Lee
Wuthering Heights by Emily Brontë
About Modality, Inc.
Modality is the premier developer of digital learning, assessment, training and applications for Apple handheld devices. Partnering with the world's leading publishers and content experts, Modality creates mobile user experiences informed by more than a decade of educational technology design.
Modality was selected by Apple as one of the first developers to work with the iPhone SDK, delivering four of the first 500 apps available in the App Store when it launched in July 2008. Since then, the company has released more than 125 apps for iPhone® and iPod touch® in partnership with Elsevier, McGraw-Hill Professional, Pearson, The Princeton Review, John Wiley & Sons, Wolters Kluwer, and Workman Publishing Co., among others.
About Wiley
Founded in 1807, John Wiley & Sons, Inc., provides must-have content and services to customers worldwide. Its core businesses include scientific, technical, and medical journals, encyclopedias, books, and online products and services; professional and consumer books and subscription services; and educational materials for undergraduate and graduate students and lifelong learners. Wiley has publishing, marketing, and distribution centers in the United States, Canada, Europe, Asia, and Australia. The Company is listed on the New York Stock Exchange under the symbols JWa and JWb. Wiley's Internet site can be accessed at http://www.wiley.com.
About CliffsNotes®
Often imitated but never equaled, CliffsNotes are the original and still most widely recognized study guides in use today. Recent research shows that among today's students, parents, and adults in general, CliffsNotes have more than double the recognition of the leading competitive study aid brand. A branded imprint of Wiley, CliffsNotes have been described by the New York Times as "an American icon." The only study guides written by teachers and educational professionals, CliffsNotes have full range of test prep and study aids—just what today's students need to grasp the essentials fast and score their highest. For more information, visit Cliffsnotes.com. CliffsNotes is a branded imprint of Wiley.
###