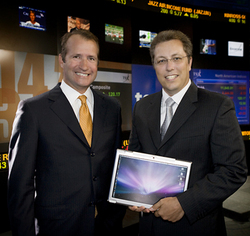 Now we can fulfill our commitment to our customers by supporting the Modbook and offering some exciting new technologies our team has been working on.
El Segundo, CA (PRWEB) August 29, 2008
High-tech solution hardware provider and Modbook™ manufacturer Axiotron® announced that beginning today shares in the company will be traded on the TSX Venture Exchange in Toronto, Canada. Concluding a transaction with gross proceeds of $5.1 million, the common stock of Axiotron will be listed under the ticker symbol "AXO" (TSX-V: AXO).
Proceeds from the transaction will be used to finance increased production of the Modbook - Axiotron's award-winning tablet Mac computer - and for general working capital purposes as well as future product development initiatives.
Andreas E. Haas, who founded Axiotron and whose vision and leadership have guided the company for over three years, will remain the chief executive officer, president and a director of the company.
"Going public in Canada provides Axiotron the financial means to grow aggressively without the potential pitfalls of traditional venture capital funding or the expensive regulatory environment of the U.S. public markets," commented Mr. Haas. "Now we can fulfill our commitment to our customers by supporting the Modbook and offering some exciting new technologies our team has been working on."
Axiotron's public offering arises through the TSX Venture Exchange's Capital Pool Company (CPC) program, a unique financing vehicle for fast-growing start-up companies. Under the program, El Segundo, California-based Axiotron merged its operations into an existing CPC with cash assets but no operations. In addition, a concurrent private placement was completed through a banking syndicate led by Philip W. Benson of investment dealer Fraser Mackenzie Limited.
Shares in the resulting company, named Axiotron Corp., now trade publicly at the TSX Venture Exchange.
Claude Ayache, the president and chief financial officer of the CPC involved in the transaction, will be the CFO of Axiotron and a director of the company. The chairman of the board of directors of Axiotron will be Mark Lawrence, the managing partner of NorthCrest Partners. In addition to Mr. Lawrence, Mr. Haas and Mr. Ayache, also serving as directors will be: Takahiro Tomiki, an auditor to Livedo Corporation; James W. G. Turner, vice president of product development at VideoPresence Inc; and Bruce Bent, president of MSW Development Limited.
Although Axiotron's shares will trade in Toronto, the company's headquarters and operations will remain at their current location in El Segundo, California.
Documents relevant to the transaction can be found on SEDAR, the document filing and retrieval website for Canadian public companies.
About Axiotron
A high-tech solution hardware manufacturing company and an Apple Premier Developer, Axiotron is the maker of the Modbook, the one and only tablet Mac solution. Following its unique vision of Customizing Your World™, Axiotron is dedicated to becoming a leading high-tech innovator through the conception and development of intriguing digital lifestyle products. In addition, Axiotron offers its product development expertise to companies in need of custom hardware solutions. Founded in January 2005, Axiotron is a publicly traded company listed at the TSX Venture Exchange (TSX-V: AXO) in Toronto, Canada, with headquarters in El Segundo, California.
The TSX Venture Exchange does not accept responsibility for the adequacy or accuracy of this release.
Axiotron, Modbook and Customizing Your World are trademarks or registered trademarks of Axiotron Corp. in the United States and other countries. Other company and product names may be trademarks of their respective owners.
###