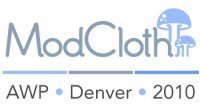 What Are You Reading This Month?
Pittsburgh, Pennsylvania (Vocus) April 8, 2010
ModCloth, an online women's clothing boutique specializing in retro and vintage dresses, may seem like an unlikely candidate to sponsor the Association of Writers & Writing Programs (AWP) Conference, but not to the book-loving ladies who work at ModCloth. ModCloth has always placed emphasis on creative copy on its site - from product descriptions, to blog posts - and by having a presence at the AWP Conference, ModCloth wants to gain recognition for the emerging field of Fashion Writing, and also encourage others' interest. This is why ModCloth has decided to start "The Written Wardrobe," an online fashion anthology featuring fiction, nonfiction, and poetry that's fashion focused. The journal will open for submissions on April 8, 2010, and the inaugural issue will launch in early 2011. In conjunction with the call for submissions, ModCloth will be hosting an AWP after-party on April 9, 2010 at Forest Room 5 in Denver, CO. First on the agenda will be a fun, fashion-in-literature pub quiz.
And, for all those ModCloth fans who are book worms, ModCloth has initiated book giveaways on its ModLife Blog. The first giveaway was held in March, in honor of National Reading Month. ModCloth gave away five copies of Melena Watrous' "If You Follow Me." Participants were asked to join ModCloth's Book Smarts group on GoodReads, a social networking site that allows users to review and recommend books to their network of followers, and comment in the discussion titled, "What Are You Reading This Month?" The five winners of the book were selected randomly from those who commented and shared what they were reading. With more than 600 entries and 700 ModCloth Book Smarts members on GoodReads, the giveaway was was such a hit that ModCloth is planning to continue doing book giveaways.
In April 2010, ModCloth is giving away three copies copies of "The Bag Lady Papers." Like the March contest, to enter the giveaway, participants are asked to join ModCloth's Book Smarts group on GoodReads. They need to leave a comment in the discussion titled, "What's your favorite opening line in literature?" by 11:59 p.m. on April 30, 2010. Find more details about the contest here.
These are just a couple ways that ModCloth works to nurture the creativity and interests of its fans. "We believe Fashion Writing is an important genre," says Molly Prosser, ModCloth's Lead Editor and Writing Team Manager. "We think it's important to support Fashion Writing, and make it a priority to work with style bloggers, and now we're reaching out to the writing community as a whole with the creation of the 'The Written Wardrobe'."
A young company made up of much the same demographic as its customers, ModCloth is constantly striving to think outside the fashion-box to provide features that support a lifestyle, and not just a look.
About ModCloth.com:
ModCloth.com is an e-retailer that sells affordable independent designer women's fashion. They've attracted a large, devoted following through their unique selection of indie clothing and engaging promotions on the ModLife Blog and social networks. The company is founded by husband and wife team Eric Koger and Susan Gregg Koger.
# # #