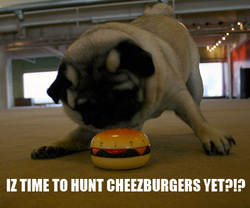 Pittsburgh, PA (PRWEB) September 18, 2009
It's official, ModCloth and I Can Has Cheezburger are joining forces on National Cheeseburger Day, Sept. 18, 2009, for a not-to-miss contest with a grand prize of a $1,000 gift certificate to ModCloth.
ModCloth thought this wacky "holiday" was the perfect excuse to partner with I Can Has Cheezburger, a fun site that features silly animal photos with hilarious captions, for one of ModCloth's biggest contests yet.
Contest details:

On Sept. 18, 2009, Winston the pug will be "hiding" somewhere on ModCloth.com. The object of the contest is to find him four times!
Round 1 starts at 1 pm EST on Sept. 18, 2009. Visit ModCloth's Twitter page and read our tweet for a clue about Winston's hiding spot. Until you find Winston, you will keep getting helpful clues and links!
When you find Winston, simply tweet back to ModCloth what Winston says. The format for this tweet is as follows: Winston Can Has Cheezburger @ModCloth and says (insert Winston's quote here).
The consecutive rounds start at 2 pm EST, 3 pm EST and 4 pm EST, on Sept. 18, 2009. Winston will "hide" in different locations on ModCloth. Follow the same directions above to find Winston all four times!
ModCloth will randomly choose 50 winners per round who will receive prize packs including a ModCloth/I Can Has Cheezburger tote, buttons, stickers, and gift certificates!
Participants who tweet all four Winston the Pug quotes will have the chance to be selected for the grand prize - a ModCloth gift certificate worth $1,000!
You can find the complete I Can Has Cheezburger rules online here.
About ModCloth:
ModCloth is an e-retailer that sells affordable independent designer women's fashion. They've attracted a large devoted following through their unique selection of indie clothing and engaging promotions on the ModLife Blog and social networks. The company is founded by husband and wife team Eric and Susan Gregg Koger.
###