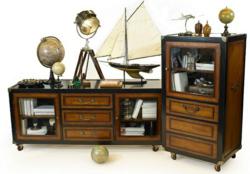 (PRWEB) July 31, 2012
Luxury home decor retailer WorldToHome.com continues to broaden its horizons with a trio of brand new categories: antiques / vintage, model planes & ships and gift ideas specifically for various interests. Each category specializes in the most modern and exciting products of their genre. Categories feature a wealth of sub-categories, containing hundreds of brand new, unique products on the market.
WorldToHome.com's new Antique & Vintage phones, globes, compass, and old world maps are among some of the products, also including the popular vintage telephones. World To Home's antique reproduction old phones remain to be one of the site's top sellers, and with such a wide variety of phones available, that's no surprise. Wooden wall phones, candlestick telephones and the very chic European brass telephones are some of the many categories to be found here. Among these fine telephones are retro pedal toys, Italian music boxes, antique globes and much more. These sub-categories offer a wide range of products to choose from, and all are guaranteed to add a richness and traditional elegance to any home.
The newest and most exciting of WorldToHome.com's additions is the model planes & ships category. Over 700 planes, ships, boats and spacecraft are arrayed here, all detailed beautifully in resin, plastic or naturally stained wood, and all models are exact replicas to different scales. These models would make an amazing addition to any avid hobbyists collection. All manner of planes are available, from propellers and jet engines to commercial and civilian planes. Many warplanes are listed, covering all wars from the 20th century. A special signature series sub-category is available, with each model signed by one or more persons of note, whether they are famous pilots or astronauts.
The last of the new categories is specially designed for unique gifts: cat & dog lover gifts and unique Christmas Gifts. Arrayed here are a large number of new and unique gift ideas for all occasions and people. Two of the more popular sub-categories include gifts for dog and cat lovers. Numerous animal lover products are listed here, and are guaranteed to make excellent gifts. Another highly anticipated sub-category includes flasks and cigar accessories. Whether you enjoy a fine drink on occasion or know someone who loves cigars, there's definitely something here to be found.
About World To Home.com:
WorldToHome.com is the premier retailer of fine luxury home decor accents, accessories and furniture. With thousands of unique home decor accessories, World To Home brings the worlds home decor products to your doorstep. Featured products include Mova Globe, lighted branches, reproduction antique phones for sale, metal wine bottle wine caddies, birdhouse mansions, and more. For more information visit WorldToHome.com.