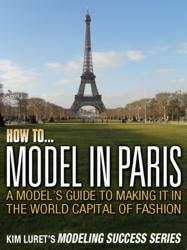 Paris is unlike any other modeling market in the world. --Kim Luret
Paris, France (PRWEB) January 24, 2013
Former international high fashion model Kim Luret has released How to Model In Paris, a new book that reveals a closely kept secret that Paris fashionistas would prefer to deep-six in the Seine: Paris's legendary chocolatiers are fattening up some of the city's high fashion models.
While reports of dangerously thin and sometimes anorexic models rightfully grab the lion's share of press reports nowadays, it turns out some newly arrived models to the world center of fashion are making too many clandestine visits to the city's renowned chocolatiers. The result is a sudden weight gain that can be career threatening if left unchecked. Of course in the rarified world of Paris high fashion modeling, 'beauty' is often a matter of millimeters and 'fat' is a relative term.
"When I first arrived in Paris as a young model I gained a pound or two very quickly as a direct result of those nearly irresistible chocolates," said Ms. Luret. "I managed to shed those pounds just as quickly, but this really is something that models newly arrived in Paris should keep in mind."
Besides the tongue-in-cheek warning of the dangers of chocolate, the book contains a great deal of practical advice for models and aspiring models wishing to break into the Paris fashion scene.
"I wrote How to Model In Paris because I love this city and believe every model should get to experience the magic of working and living here," said Ms. Luret. "I've tried to include everything a model needs to know in order to get started and do well in the Paris market."
The book covers such diverse topics as the specific physical requirements to model in Paris, how to find an agency there, what to expect from Paris test shoots, how you will be paid while working as a model in Paris, and much more.
An American in Paris, Ms. Luret is a veteran of the fashion world, having spent 12 years as a high fashion model on the runways of Paris, Milan and New York. She has worked directly with such top designers as Giorgio Armani, Karl Lagerfeld, Christian Dior, Gianni Versace, Calvin Klein, Yves Saint Laurent and others. Presently a scout for a Paris modeling agency, she continues to travel the world in search of the next great model. She also writes about modeling topics and coaches models and aspiring models.
How to Model In Paris is available for free download in Amazon's Kindle Store January 25 - 26, 2013 after which it returns to its normal pricing. The book is part of the Kim Luret Modeling Success Series of books, which include the following additional titles:
How to Find the Best Model Agency
About Kim Luret
Former high fashion model Kim Luret is the author of The Kim Luret Modeling Success Series, available exclusively in Amazon's Kindle Store. Each title in the series is designed to give specific, real world advice to both working and aspiring models. She currently lives and works in Paris, France.
Kim Luret Bio: http://howtobecomeamodelsecrets.com/Kim/Kim_Bio_2013a.pdf
###