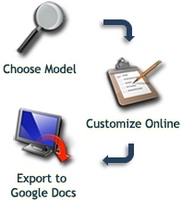 Users get a spreadsheet that meets their needs, delivered directly to their Google Docs account. All in a few minutes.
Arlington, MA (PRWEB) March 29, 2011
Users of Google Docs™ can now create custom spreadsheet templates using ModelSheet Software's web-based Spreadsheet Customizer. Users can choose a model in finance, marketing and sales, operations analysis, and other areas, customize it by filling in a simple online form, and export a Google spreadsheet that is made to order. There is nothing to learn.
Google Docs offers an ideal platform for users to collaborate to develop, use and maintain spreadsheets. Users can access work from anywhere with an internet connection. Others at remote locations can edit the same model and view the changes in real time. Google provides some "static" templates, but they can't be customized to users' needs without manual editing.
This is where ModelSheet's Spreadsheet Customizer comes in. It asks users simple questions, provides help, and generates a custom spreadsheet that exactly suits the user's needs. The spreadsheet template can be directly uploaded to the user's Google account. If the spreadsheet exceeds Google Docs' size constraints, it can be downloaded as a Microsoft® Excel® workbook.
Behind the scenes is cutting-edge technology for authoring and customization of spreadsheets. This technology places in each workbook a short list of readable formulas that explain how the model works. The process is 100% automated, so the spreadsheets are priced very low for custom software.
To get started, users can view templates from ModelSheet on the Google Docs website, and then customize their own using the Spreadsheet Customizer.
Founded in 2007, ModelSheet Software offers web software for customizing and authoring business models and delivering them in spreadsheets. Our Spreadsheet Customizer enables users to customize spreadsheet models by filing in a simple web form. The ModelSheet Authoring environment automates virtually all manual cell-level operations needed to build spreadsheets. These products improve the expressiveness, flexibility, collaboration, turnaround times, and reliability of spreadsheets.
###