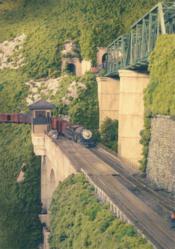 Model Trains: You Can Still Have a Happy Childhood!
Visit http://www.gsmts.com.
Timonium, Md (PRWEB) January 30, 2012
The Great Scale Model Train Show and Railroad Marketplace arrives at the Maryland State Fairgrounds in Timonium on Saturday and Sunday, February 4 and 5, 2012. For over thirty years, this event has delivered an immersion into railroadiana in all common scales from Z to large scale and hi-rail. Attendees will enjoy 160,000 square feet of spectacular operating layouts stunning in size, scope, and detail, hands-on clinics and demonstrations, hundreds of stations of model train gifts, books, hobby supplies, memorabilia, software, and theater-style presentations of model railroad videos throughout the weekend. Show visitors will have the opportunity to talk to experts from local model train clubs -- even a Circus Modelers Group. Many historical organizations are exhibiting, including the B&O, C&O, Conrail, and Maryland & Pennsylvania Railroad Historical Societies.
The Great Scale Model Train Show is the largest juried scale model railroading exhibition of its kind celebrating what the hobby offers for serious modelers and collectors as well as "kids of all ages." Many childhood afficionados of "Thomas the Tank®" have grown up to be serious hobbyists. The talents and skills applied in model railroading -- "The World's Greatest Hobby" -- are diverse, spanning electronics, visual arts, horticulture, landscape design, carpentry, modeling, history, research, storytelling, and computer technology.
Show dates: February 4-5, 2012
Maryland State Fairgrounds, Timonium
Hours: Saturday 9AM-4PM; Sunday 10AM-4PM
The fare is good for both days!
Ample, free parking
Admission: Saturday $9, under 15 free, Family $18 (unlimited)
Return Sunday free, or
Sunday $8, under 15 free, Family $15 (unlimited)
For more information, contact:
Howard Zane
hzane1(at)verizon(dot)net
1-410-730-1036
Master Model Railroader, Howard Zane, a celebrated world-class figure among serious model railroaders, is a producer of the Show, along with business partner and expert modeler Ken Young. Among a half-dozen recognized professional model railroad appraisers and experts in the world, Zane's formal training was in industrial design. He has a degree in fine arts from NYU, is a graduate of Parsons School of Design, and studied at the University of London and the Sorbonne in Paris. Zane's architecturally designed, historically accurate, scratch-built model railroad layout structures have been sold around the world, and he has been commissioned to design and construct custom personal layouts around the U.S.
At more than 2,800 square feet -- larger than most entire homes -- Zane's own personal HO-scale layout is among the largest private layouts in the world. Zane continually works on expanding the features and size of his globally celebrated creation, the scope of which has required additions to his home. Named the "Piermont Division," his layout has been featured often in model railroad magazines and various media, including Model Railroader, Railroad Model Craftsman, Allen Keller Productions' "Great Model Railroads" video series, the PBS series "Tracks Ahead," and has been featured in broadcasts on Maryland Public Television and TV network affiliates numerous times.
Set in a painstakingly crafted landscape, the details of the Piermont Division layout are excruciatingly accurate, down to signs on buildings, curtains, window shades and fire escapes, trash in the streets, and lit street lamps. The sweeping scope of the layout includes 22 scale miles of track; 25,000 trees, streams, waterfalls; thousands of buildings; 200 working locomotives; and 2,000 pieces of rolling stock.
Zane is the author of "My Life With Model Trains," a hardcover 300-page book with 450 full-color photographs that chronicles his colorful life and adventures in the "World's Greatest Hobby" and his journey creating the Piermont Division. The book is available at the Show and on the author's website, http://www.zanestrains.com. Howard Zane can be reached directly at hzane1(at)verizon(dot)net or 1-410-730-1036.
Photography Courtesy of the Four County Society of Model Engineers
###