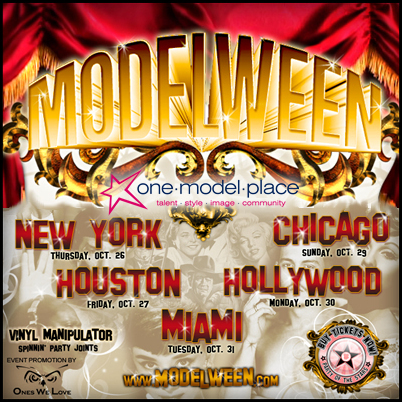 the Party with the Stars
NEW YORK (PRWEB) September 25, 2006
One Model Place (OMP) the company that set the industry standard for the presentation of electronic Portfolios for Models, Photographers, Agents, Actors and others today announced the 4th annual Modelween, billed as "the Party with the Stars". One Model Place has over 200,000 members and Modelween invites all the OMP members and their friends to join in a celebration of Halloween. Put simply, ModelWeen is what you get when thousands of models come out to celebrate Halloween. This year's event kicks off on Thursday, October 26th at T New York nightclub. Over a six day period Modelween will travel to several cities including New York, Miami, Houston, Chicago, and Hollywood. The grand finale event takes place in OMP's hometown of Miami, Florida on Halloween night, Tuesday, October 31, 2006 at Nocturnal Miami. With Miami's Star Island only a few miles away from Nocturnal, this is one Halloween party that will be filled to capacity with some of the industry's most notable models and celebrities.
The theme for the party is "the Party with the Stars". All of the models and their guests will be dressed up as famous celebrities. Interestingly enough, with hundreds of professional models, photographers and famous actors/actresses attending Modelween, some of the guests won't need to wear a costume. Cash and prizes will be awarded in each city to the person with the best costume.
The event is promoted by Ones We Love (OwL), the nationwide event promotion and marketing company that specializes in producing special events, concerts and nightclubs across the USA. The party features top Hollywood disc jockey Vinyl Manipulator and other local DJs to be named later. VIP guests will be treated to an exclusive VIP lounge, complimentary appetizers and a Modelween gift bag filled with Halloween goodies and giveaways from sponsors. To purchase tickets or get more information on dates and cities, visit http://www.ModelWeen.com.
# # #