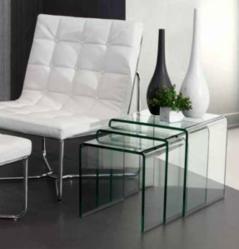 The more modern the room is, the simpler, sleeker, and more polished the décor items should be to match the space's cool, minimal design, and contemporary accent tables are all that and more.
(PRWEB) August 09, 2012
HomeThangs.com – the Home Improvement Super Store has made their goal to deliver the right product to the consumer, with that in mind, shopping and home design tips, as well as special product selections are being introduced.
Contemporary accent tables are stunning in their simplicity, and add both functionality and design to a modern or contemporary living room. The more modern the room is, the simpler, sleeker, and more polished the décor items should be to match the space's cool, minimal design, and contemporary accent tables are all that and more.
HomeThangs has introduced a guide to contemporary accent tables as well as a product selection for a modern living room decor.
1. One of the biggest differences between traditional and contemporary accent tables is material and finish. While many traditional accent tables are made of rugged, antiqued wood or aged, finished metal, contemporary accent tables skew towards plastic, lacquered wood, glass, and bright, reflective chrome or stainless steel finishes. The Largent Accent Table from Nuevo is a good example – made with a shiny chrome frame and a tempered glass top, it'll meld with just about any contemporary decor. The "accent" part comes in with the staggered base and top, and the asymmetrical offset arm that attaches the two. While many tables of any kind are perfectly symmetrical, contemporary accent tables often use asymmetry to add visual interest and make up for the lack of ornamentation.
2. Even incredibly simple contemporary accent tables like the stacking Explorer Tables from Zuo can be stunning in a modern living space. Made of folded, tempered glass, these tables are about as minimal as they come, but when stacked, the slightly green glass creates a cool three dimensional look and neat shades and depth of color. They can either be used stacked or scattered throughout your room, and are extremely versatile if occasionally more space is needed.
3. Tempered glass in general is an excellent material for a modern decor. Because glass is transparent, it allows the functionality of an accent table without visually blocking the room. This creates a more open looking space, which is especially nice in a smaller home, loft, or a smaller apartment. The Legacy Side Table by Zuo is especially stylish – the hole in the middle allows to stand a tall, slim object (like a vase or statue) on the bottom shelf and have it protrude up into the center of the table for a unique, eye catching accent.
4. Shiny metal tables, like Stacked Side Table by Nuevo for instance, do the same thing in a slightly different way. While one can't see through them, the most reflective contemporary accent tables reflect the room around them which can make the space seem larger than it is. As a bonus, these also blend well with just about any modern decor, simply because they get most of their coloration from the room they're in.
5. Contemporary accent tables that are made of mirrors work very well in contemporary decor. The Matty Cube from Uttermost is about as simple as this concept comes, with five reflective sides on a perfect cube, but just about any shape covered in mirrors makes a dramatic statement piece in a modern setting. The more highly contrasted the room is (like a black and white room), the more dramatic the reflections in the accent table will be.
6. Black and white accent tables look great in a modern decor as well, whether or not going for a dramatic high-contrast look. Because the colors are undiluted, they have a simple but hefty feel to them. White contemporary accent tables, like the Carrie Coffee Table from EuroStyle, are especially statuesque, and can create a sophisticated, museum-like feel. The smooth, simple curves and slightly reflective surface are classic modern design, and are supremely easy to accessorize – like a blank canvas.
7. Simplified classical shapes will make for a sophisticated twist on a modern design with a little vintage flair. The petite Viola Accent Table by Zuo has the sleek, sweet curved legs of an antique piece, but without any other ornamentation and a high-gloss, mirrored black finish. It's slightly reflective and ultra modern in the way only solid black pieces can be, perfect for a classically influenced modern decor.
HomeThangs.com is not only a home improvement superstore, it also provides expert design tips and a comprehensive shopping guide, taking the ideas from professional interior designers, and offering tips to the consumers on how to pick the products to best suit their needs.