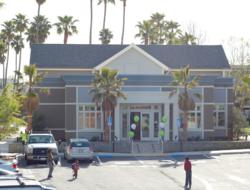 AXIS provided astute leadership in developing a cost effective design that blends with the existing architecture of the Summer House apartment campus, while also distinguishing itself as a focal point
San Francisco, CA (PRWEB) April 10, 2012
Axis Architecture + Design, a San Francisco modern architecture firm is proud to announce the completion of the community center at Summer House. The premier architecture firm of San Francisco designed the center which complements the community of 620 apartments in Alameda. Specializing in modern architecture throughout San Francisco, Axis Architecture + Design worked closely with the owner of Summer House, Kennedy Wilson, and the contractor, DA Pope, throughout construction of the 4,000-square-foot building.
Multi-family residential real estate is a highly competitive industry. As a result, it is vital for owners to provide their residents with amenities that enhance their lives. This project is a classic case study of how an owner's investment is enhanced by increasing retention of their existing residents.
The building will house a fitness center, technology center, and event space for residents. New bathroom and changing rooms have been added to serve the fully refurbished swimming pool. The new building will also house the leasing office and will become a new "front door" for the community and it carries over the theme of the rest of Summer House, a classic nautical theme.
"AXIS provided astute leadership in developing a cost effective design that blends with the existing architecture of the Summer House apartment campus, while also distinguishing itself as a focal point, Kurt Zech, Executive VP and Northern California Regional Director with Kennedy Wilson, said. "This new Community Center will become a vibrant hub of activity for our residents for generations to come."
For more information on AXIS Architecture + Design, call 415-371-1400 or visit online at http://www.axisonline.net. AXIS Architecture + Design is located at 1200 Folsom St. in San Francisco.
About AXIS Architecture + Design
AXIS Architecture + Design is an architecture firm in San Francisco that specializes in renovation and reposition of asset types including commercial office, retail, multi-family and hospitality. They assist clients who are typically owners, property managers and end users by providing creative and practical solutions to the challenges they are facing such as updating assets that are tired and have lost their competitive advantage, reducing liability associated with buildings that are out of compliance with the various code requirements, modernizing infrastructure to improve operational efficiency and adding amenities to attract or retain either tenants, users or guests.