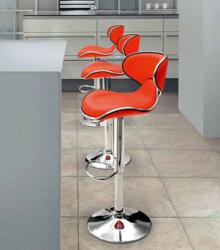 There are two kinds of home bars: ones modeled after old school pubs, hardwood and dartboards, and those more likely to be paired with a cocktail dress and a skyline view.
(PRWEB) July 11, 2012
HomeThangs.com has made their goal to deliver the right product to the consumer, with that in mind, shopping and home design tips, as well as special product selections are being offered.
HomeThangs has introduced a new line of modern bar furniture to create a private cocktail bar at home. Interior designers at HomeThangs also suggest some tips on how to build a home bar without making big investment or having to be involved in a remodeling project.
There are two kinds of home bars: ones modeled after old school pubs, hardwood and dartboards, and those more likely to be paired with a cocktail dress and a skyline view. Building in home pub might not be feasible, but creating a compact cocktail lounge is a lot easier – and less expensive, especially if a home already errs a little on the side of modern design. Having a balcony (and a bottle or two), pulling off modern home bars can mean as little as procuring a few pieces of bar furniture.
1. A home bar can be simple, sleek, and small – just enough space for two (or four), such as the Clyde Bar Table 04321 from EuroStyle, pared with the matching Agnes Bar Stools 0435. Where traditional bars are big, modern home bars, like cocktail bars, emphasize intimacy, giving you a little more room for face time. This is especially good for a home setting, because how many bar tables or chairs one gets are easily flexible to how much space one has and how many guests are going to be entertained.
2. Traditional bars and larger pub style home bars focus on hefty furniture: a big bar with stools and large restaurant style booths, both of which can take a big chunk out of your living space and your budget at the same time. That's two ways that a minimal modern design shines when it comes to modern home bars. Not only does the furniture tend to be much more compact, it's also made out of less expensive materials like aluminum or steel, glass, or even plastic, with a little leather thrown in for style. Example: Crescent Bar Chairs 300070 and Lemon Drop 601101 table by Zuo – this simple, stylish, utterly modern setup is available for just a few hundred.
3. Simple materials and minimal design don't necessarily mean plain. The Chardonnay 621111 bar table and Butcher Bar Stools 300280 by Zuo for example – the intricate lines of the table stand make an excellent, criss-crossed pattern that's nicely counterbalanced by the simple, comfortable square cushions of the bar stools. Too many intricate patterns though can overwhelm a modern design, so a few accent pieces would work best with the rest being simple to make them stand out.
4. A standard bar stool would look good in both a traditional large bar and a modern private lounge, adding a little plush to home. For example, the Fly Barstools 300132 by Zuo are nice and cushy with just the right amount of lower back support, the bright colors and little chrome curves are all style – a perfect accent as well as a comfy seat.
5. An island bar or console style bar would make the space more functional without taking up too much space, such as the Delfina Bar Buffet HGTA380 from Nuevo. These work exceptionally well in a loft-style setting where there might not be a whole lot of room to work with, because the highly adjustable shelf design allows for plenty of storage without a permanent installation. And since it's just a single, slightly large-sized table, it's easy to move around or out of the way when it's not used.
6. As the most compact solution HomeThangs suggests folding bar furniture, such as the Christabel 700610 table and the stackable polycarbonate Anime 106106 chairs from Zuo . The table top folds perfectly flat and the base is set on smooth-glide castors for easy movement, so it's easy to stash a couple in a closet. Combined with stacking chairs it is a simple way to flesh out or pare down an entertaining space depending on how large the guest list is, and keep home bars uncluttered when not in use. Since the chairs are made of hard, clear plastic, they're slightly see-through, which can trick the eye into thinking even a relatively small or crowded room looks bigger than it is.
HomeThangs.com is not only a home improvement superstore, it also provides expert design tips and a comprehensive shopping guide, taking the ideas from professional interior designers, and offering tips to the consumers on how to pick the products to best suit their needs.