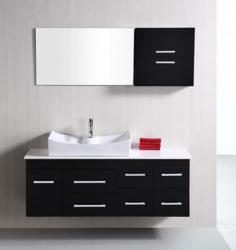 Different amounts of black or white create a totally different aesthetic, so it's important to decide on the right balance before buying any bathroom furnishings.
(PRWEB) January 14, 2013
HomeThangs.com – the Home Improvement Super Store has made their goal to deliver the right product to the consumer. With that in mind, shopping and home design tips, as well as special product selections are being introduced.
HomeThangs.com introduced a few tips on black and white bathroom vanities, and how to use just a single piece to give the bathroom a striking modern style. Different amounts of black or white create a totally different aesthetic, so it's important to decide on the right balance before buying.
1. Almost All Black
Black is a sort of go-to color choice for a modern design. It's simple, sophisticated, elegant, and clean, while still being an uncommon-enough choice for interior design to be striking. Black bathroom vanities are all these things and more. That's why, if looking for a modern bathroom vanity, it is more likely than not to stumble across a black one, or black with a white detail. For example, the white vanity top and vessel sink on the Springfield Vanity from Design Element, plus the shiny chrome drawer pulls are what really make it shine. Against a white wall, the black really pops, looking fresh and clean by contrast without looking old fashioned.
2. Almost All White
Most people tend to think of black as being a much more modern, striking color than white. But white is always a brighter, more open color, and often a better choice for smaller bathrooms, or ones that get a lot of natural light. Adding a little bit of black, like a black countertop on a white vanity for example, makes that beautiful, open color dramatic and elegant.
3. 50/50
For those looking for a truly modern statement piece for the bathroom, a vanity with an equal (and especially notably geometric) balance of black and white parts is the best way to do it. For example, this Black/White Vanity from MBM is unapologetically modern, with a stark 50/50 black and white makeup to create the highest possible contrast.
4. Playing Up the Sink
Another neat trick to incorporate high contrast into the bathroom decor is to opt for a black bathroom vanity, but pair it with a large white vessel sink or even an integrated vanity top. For example, the simple WC301 Black Walnut Vanity by Legion Furniture features a simple, modern face done in an elegant black, reflective chrome feet. But the big, curvy basin sink serves not only as a color contrast but also a stylistic one, lending just a hint of pedestal sink style to a very modern design.
5. Detailed Decals
One trend that's really starting to catch on, especially when it comes to modern European designers, is the use of high-contrast decals on the front of black or white bathroom vanities. The Flower Power Vanity by Legion Furniture is a great example, with a slightly more playful take on a high contrast design. The scribbled flower detailing isn't exactly sophisticated, but it's definitely out of the ordinary and more than a little eye catching. One can find bathroom vanities with black detailing on a white background as well, and in designs that range from the slightly cartoony flowers to simpler, more striking geometric designs.
6. White Space
Many modern bathroom vanities play not just with contrast of color on the vanity itself, but also the color in the "background," leaving peek-through holes. This is especially common with black bathroom vanities designed to accentuate the white wall behind. For example, the Alicia Vanity from Virtu USA is actually a fairly mild example, without any peep-holes on the vanity itself, but the staggered level of the sink and vanity paired with the cutout shelf adjacent to the mirror make for not only a very smart storage setup, but also for a nice, slightly asymmetrical contrast that turns a relatively simple bathroom vanity into something elegant.
7. Black Space
This one is great for those who are looking to get a really dramatic, high contrast black and white look for the bathroom. For example, the NS9 Vanity from Iotti is, technically, 100% white, but paring it (and its matching storage cabinets) with a small, simple, utterly striking black accent wall, offers instant high contrast. The rest of the bathroom can be white, keeping the color from becoming too oppressive, and instead creating a beautiful pop of contrast, from the white vanity against the black wall to the dark slate floor and black picture frames against the white wall.
HomeThangs.com is not only a home improvement superstore, it also provides expert design tips and a comprehensive shopping guide, taking the ideas from professional interior designers, and offering tips to the consumers on how to pick the products to best suit their needs.