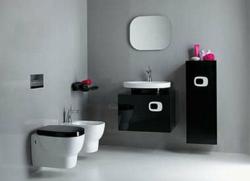 For those looking for something different than the conventional modern bathroom style, the simple, sophisticated luxury designs of Laufen will be the right choice.
(PRWEB) September 15, 2012
HomeThangs.com – the Home Improvement Super Store has made their goal to deliver the right product to the consumer, with that in mind, shopping and home design tips, as well as special product selections are being introduced.
Laufen is a Swiss-based manufacturer that's been designing and producing luxury bathroom fixtures since the 1890s. They combine the stylish high design of Italy with the elegant, unadorned simplicity of the Bauhaus movement to make a complete and stunning modern bathroom design. For those looking for something different than the conventional modern bathroom style, the simple, sophisticated luxury designs of Laufen will be the right choice.
HomeThangs.com has introduced the luxurious Laufen's fixtures to be available for sophisticated consumers and interior designers, to complete the most upscale bathroom spaces. Along with the product line, a style guide has been introduced, explaining the designs and inspiration behind the unique fixtures from Laufen.
1. In some ways, the Bauhaus movement is the granddaddy of modern design. From architecture to interior design, its followers stripped classic forms of their ornamentation, reducing them to their simplest and purest forms. Since the movement's heyday at the turn of the last century, modern design has become somewhat more angular and utilitarian, but Laufen preserves some of Bauhaus's emphasis on simplified classical forms. The Alessi One Freestanding Tub from Laufen is a really nice example – it's essentially an old fashioned clawfoot tub with the ornamental feet, roll top, and slipper-style sides reduced down to a simple, almost egg-shaped form. In true Bauhaus style, this tub represents the purest form of the tub, beautiful and elegant unto itself.
2. Many of Laufen's bathroom products prefer this simple, curvy design. The matching Alessi One Countertop Washbasin looks like little more than a single, smooth brushstroke of white paint, with a curved basin that tapers out to a thin countertop. Unlike a typical utilitarian wall mounted sink, this is an artistic, designer piece that's beautiful rather than stark in its simplicity. So, too, the matching Alessi One Bathtub – like the matching freestanding tub, it's all elegant curves, but this one is also set into a long wooden stand. This adds simple, natural warmth to the space, and is a more subtle way to have the look of a freestanding tub with the functionality of a flat surface for the bubble bath and back scrubber.
3. Laufen's Italian influence shows up in some of their funkier designs, like the groovy, slightly retro Mimo collection. These pieces have a little more fashion flair and a little less artistic zen, opting for bold, glossy finishes and subtle but sassy detailing. The offset eyehole handle on the Mimo Vanity and Storage Cabinet, plus the cool Two-Tiered Sink are simple adornments that add a lot of personality with just a little bit of contrast and asymmetry. True to Bauhaus style, though, each of Laufen's modern bathroom design collections is complete from head to toe, including a matching Toilet and Bidet and bathtub, too. Of course, this is the more subtle end of Italian design.
4. The same Mimo line also offers a slightly less subtle version. In addition to plain black or white, Laufen also offers the Mimo line in white/pink and black/pink. This is a good example of a very Italian inclination to print broad, bold decals on bathroom furniture, from bathroom Vanities to shower walls and even matching Toilet Seats. While this is eons away from the smooth, sophisticated Bauhaus end of Laufen's modern bathroom design, it has its own cheeky appeal and customizability that cannot be found from most American designers. They even offer a variety of different bathtub styles, sizes, and shapes.
5. With any of their collections, Laufen offers an excellent way to give the whole bathroom a luxury modern makeover. The main appeal of those magazine-spreads done in the highest modern bathroom design is that they look amazingly clean, simple, and inviting. But the main drawback of actually having such a bathroom is that it can often border on being cold or even sterile or boxy feeling. But Laufen uses subtle designer techniques to combat this, like the curvaceous asymmetry of the Palomba collection.
From the asymmetrical Vessel Sinks and natural curve of their Tub to the subtle natural wood grain of the matching Vanity, Laufen defies conventional modern bathroom design wisdom, adding a subtle natural undercurrent in shape and material rather than opting for inert geometric materials and shapes. Even the Toilet and Bidet are different enough from the norm to make the bathroom eye-catching without making it feel cluttered.
6. Even their more angular collections, like the Alessi dOT line, use shapes in interesting and compelling ways. At a glance, one can see the simple wedge-shaped trapezoid is carried throughout the entire collection for a sort of matching asymmetry that extends from Tub to Toilet – they even have a matching Urinal and Bidet. Using matching shapes gives the bathroom a unique visual harmony. Laufen understands this aspect of modern bathroom design in a way that many don't, and make it easy to design an entire master bathroom suite from a single collection, not only for a beautiful look, but for an instant and unique visual unity.
7. Laufen has been working with ceramic for over a hundred years, and if anyone's perfected the medium, it's them. But while ceramic might seem like the least interesting material to employ bathroom-wide, especially in a luxury master bathroom, it's actually maybe one of the better ones. Concrete, steel, glass, and MDF are common in modern bathroom design to the point of being ubiquitous, but choosing white ceramic fixtures like the Wall Mounted Sink,Freestanding Tub, Toilet, and Bidet from Laufen's Form collection will give the clean, sophisticated lines of the bathroom a warmer, more natural and classical feel that can fend off some of the less desirable qualities of a modern bathroom design.
HomeThangs.com is not only a home improvement superstore, it also provides expert design tips and a comprehensive shopping guide, taking the ideas from professional interior designers, and offering tips to the consumers on how to pick the products to best suit their needs.