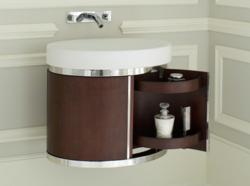 Modern design focuses on the line, so to get a unique, sophisticated look - simple, sleek, but slightly unusual lines is something to look for.
(PRWEB) November 01, 2012
HomeThangs.com – the Home Improvement Superstore has made their goal to deliver the right product to the consumer, with that in mind, shopping and home design tips, as well as special product selections are being introduced.
For those who are a little too traditional to fall head-over-heels for a straight laced industrial modern style, but have a place in their heart for minimalist design, designers at HomeThangs.com suggested a few picks of modern bathroom vanities – once that are simple and sleek, but with just a touch of sophistication for a polished, classy modern bathroom.
1. Simplicity is the order of the day when it comes to modern design, but there's a world of difference between modern bathroom vanities made of stark straight lines and right angles and ones with more sophisticated, sinuous curves. The Ronde Vanity from Virtu USA, for example, is utterly modern, with a dark, unadorned finish and gravity-defying chrome-and-glass integrated sink that plays cool tricks on the eyes. But swapping a boxy, straight-legged design for this modern bathroom vanity's elegant and eye-catching curved stems not only adds an instant visual wow factor, but also just a touch of classical form to lend sophistication to the design.
2. Giving modern bathroom vanities some curve doesn't mean they have to be vintage inspired. For example, the Camber Petite Kohler vanity, which has legs that are about as stick straight as they come, but a great retro vibe that's more Mad Men than Downtown Abbey. The geometric design (rectangles, circles, and cylinders for all!) makes it a perfect pair for a modern bathroom, but the Sapele wood veneers give it a sophisticated, furniture quality finish that will add that little touch of warmth and luxury to the modern design.
3. Even simple modern bathroom vanities, like the curvy Ovale Vanity from Porcher can seem a lot more sophisticated and elegant if opting for a natural wood finish instead of the more common black or "espresso" finishes that are common among modern bathroom vanities. Really, it's the wood that's the start of this slightly asymmetrical vanity, with wenge, cherry, or maple wood veneers giving it a beautiful natural wood grain and furniture like appearance.
4. Not only round or rounded modern bathroom vanities will make the top picks list. Nixing the hard edges and corners that often plague modern bathroom vanities is one of the best ways to make the bathroom a little more livable. Something like the Milton Sink Vanity from Carolina Accents has only the barest hints of traditional design in the paneling beneath the sink and on the bottom drawer. But the wood finish, those panels, and the single button-style drawer pull fuse traditional sophistication with this vanity's simple modern elegance – perfect for a classy urban bathroom.
5. It is extremely important to think about lines when it comes to modern design. The most minimal modern bathroom vanities are made out of plain geometric shapes with hard lines and sharp angles. But there's nothing in the modern bathroom manual that says that's how it has to be. Modern design focuses on the line, so to get a unique, sophisticated look - simple, sleek, but slightly unusual lines is something to look for. The Ka Vanity from Xylem, for instance, is clearly destined for an Asian-inspired bathroom, but it illustrates the point nicely: the vanity has four lines to it, but it isn't a square. Instead it offers four elegant brush strokes that take this vanity about a million miles away from standard boxy, table style pieces.
6. In order to get really creative, one can go bold with lines by opting for something like the Alessi One washbasin from Laufen. Not technically a vanity (even though it takes up as much space as one), this glorified wall mounted sink is sophisticated in its statuesque elegance, relying on a simple, unadorned ceramic construction and simple tapered sides to make it look stunning.
7. None of this is to say that modern materials should be off limits, or that traditional ones like wood or ceramic are somehow unarguably superior. In fact, combining the two can make for a pretty dramatic statement piece. Case in point, the Strela Vanity from Kohler, which has a wood-patterned MDF body accented with bands and stripes of bright, shiny metal. The effect is extremely modern, but gives that same visual cue of opulence and sophistication that you want for a warm, designer space. Bonus points to this vanity as well having pivoting, shelf-laden doors instead of an ordinary and less-useful interior cabinet.
8. Flying in the face of nearly all that very good advice is the Aeri Vanity from Whitehaus. It's made of shiny lacquer and glass – modern, check; with all right angles and hard lines – modern, check. Yet somehow, between the smoky translucent glass sink and subtly reflective surface, it manages to be defiantly elegant. Certainly an anomaly on this curvy, wood-heavy list with enough coats of gloss, even terribly square modern bathroom vanities can look pretty good.
9. Mixing mediums is another way to bring a little oomph to boxier modern bathroom vanities. I like the Traverse Vanity from Kohler pretty much entirely for the way it combines chrome, wood, glass, and porcelain, playing with visual space (the inverted T space in the middle is surprisingly elegant and eye catching) to create something that's more than its component square parts. Plus the cute and convenient built in towel bar speaks to the deep down, tucked away utilitarian.
HomeThangs.com is not only a home improvement superstore, it also provides expert design tips and a comprehensive shopping guide, taking the ideas from professional interior designers, and offering tips to the consumers on how to pick the products to best suit their needs.