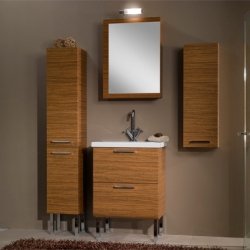 Italian designer Iotti is famous for their extremely small footprint bathroom vanities, which have smart storage and a lot of modern style.
(PRWEB) August 11, 2012
HomeThangs.com – the Home Improvement Super Store has made their goal to deliver the right product to the consumer, with that in mind, shopping and home design tips, as well as special product selections are being introduced.
European homes are smaller than an average American one - their cities are, typically, more densely populated, with compact buildings and not a whole lot of sprawl. And that's made European designers very good at making the most of small spaces. Italian designer Iotti is famous for their extremely small footprint bathroom vanities, such as Enjoy Vanity for example, which have smart storage and a whole lot of modern style.
HomeThangs has introduced a new product line – Italian bathroom vanities by Iotti, as well as a tip sheet on European design for small bathrooms.
1. Not Merely Small
One of the smartest things about compact European bathroom vanities - and something rarely seen from American manufacturers - is that the vanities aren't merely small, as narrow. They're also very shallow, so the front of the vanity doesn't protrude as far into the bathroom. This is smart design in a myriad of ways, not the least of which for the simple fact that it gives more room to move around. In a very small bathroom, that will make the space seem larger, feel more comfortable and easier to navigate. And unlike a standard 36"x36"x36" vanity, it won't feel like a big gangly lump in a small space. For example, Lola Vanity by Iotti might not offer a whole lot of counter space, the slim, trim, 10 inch depth means it would not visually crowd even the smallest space.
2. Smarter Storage
Having less space breeds innovation, especially when it comes to storage solutions. While an average small bathroom vanity typically has one cavernously large, hard to oganize cabinet, European bathroom vanities, like ones by Iotti, tend to use even less space more judiciously. The Linear Vanity for example, has a smaller, two-door cabinet and two easily accessible drawers, all of which are raised to waist level. That makes it easier to keep the stuff organized. Plus, because the vanity is so shallow, it's almost impossible to misplace the items in the back of the cabinet, so everything is just easier to find.
3. Minimal But Multi Purposed
Due to the fact that European style bathroom vanities are so compact, some of them can even be used for multiple purposes. Iotti's Fly Vanity for example - it's a little more than a shelf with a sink and a drawer, it can be installed high enough off the ground to use comfortably either while standing or while sitting in front of it, which means it can easily be used as a dressing table. This style is good for having a lot of make up or hair care products readily available, as the wide drawer is ideal for keeping small items spread out and easy to find. And a stool can be stored underneath the vanity when not in use.
4. Superior Supplements
Many of Iotti's offerings are part of larger sets, often including multiple types of storage cabinets and medicine cabinets as well as sinks, faucets, and mirrors. The benefits of very shallow bathroom vanities go for their matching storage cabinets as well. The Luna Vanity Set offers three cabinet options in addition to the beautifully designed vanity. The first is a pretty typical cabinet, the others slim, wall mounted pieces (one of them a mirrored medicine cabinet), but what all three have in common is that they protrude less than ten inches away from the wall. The smaller of the two full sized cabinets is only seven inches deep.
5. Liberated Layout
Instead of opting for one big storage cabinet, hamper, towel rack, one can have a wall full of storage. It's a much simpler, much sleeker solution to small bathroom problems than most American designs offer. For example: aptly named Simple Vanity and its twin storage cabinets have a lovely symmetry, and it has its own built in towel rack, so wall space does not have to be wasted putting one in. Plus, the cabinets are small enough to be installed over a hamper, toilet, or a trashcan without overwhelming the space.
HomeThangs.com is not only a home improvement superstore, it also provides expert design tips and a comprehensive shopping guide, taking the ideas from professional interior designers, and offering tips to the consumers on how to pick the products to best suit their needs.