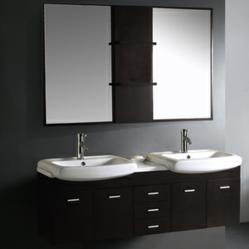 From clever internal design to maximizing storage to mix-and-match modular add-ons, the best modern bathroom vanities address the problems that arise from a compact, simplified design.
(PRWEB) September 30, 2012
HomeThangs.com – the Home Improvement Super Store has made their goal to deliver the right product to the consumer, with that in mind, shopping and home design tips, as well as special product selections are being introduced.
Designing a modern styled bathroom requires a special kind of flair. Finding the perfect line between minimal and barren can be difficult, and keeping the bathroom looking clean and sleek while finding a place to put all the stuff can be even harder. But though modern bathroom vanities tend to have a simple outward aesthetic, many are designed with utility in mind. From clever internal design to maximizing storage to mix-and-match modular add-ons, the best modern bathroom vanities address the problems that arise from a compact, simplified design.
HomeThangs introduced a shopping guide to modern bathroom vanities in order to help homeowners who are concerned about storage find the best stylish storage smart solutions for their modern bathrooms.
1. One of the best expressions of the modern design is the wall mounted vanity. These come in a lot of shapes, sizes, styles, and forms, but the most common – like the Lincoln Street vanity from Sagehill Designs – are simple wood boxes with single or double pull-out drawers. The insides are fitted to accommodate and hide the plumbing, plus offer a little segmented storage in the space that's left. These can be mounted at just about any height – even staggered for an asymmetrical his/hers "double vanity," and leave the wall space looking airy and open.
2. Wall mount vanities offers two main advantages. First, they're about as compact as they come, with incredibly compact footprints. Secondly, this type of vanity maximizes white space, stripping away ornamentation offering a simple, elegant look. Depending on the needs of the bathroom, many wall mounted vanities also come paired with lots of add-ons and accessories, from medicine cabinets to slim storage cabinets and shelves.
3. On the exact opposite end of the spectrum is the Whitehaus WHLOW vanity. Taking the minimalist aspect of modern design to the extreme, this "vanity" is really little more than a wall mounted counter top. This is an absolutely stunning piece for a bathroom where storage is less of a concern, like a guest bath or a master bathroom with lots of supplemental storage. The vitreous china sink and slate gray deck make for a striking contrast, and the barely-there silhouette is both sleek and surprising.
4. Similarly, if looking more for style than storage, something like the Crystal Wall bathroom vanity from LaToscana is a way to go. It has just about enough "counter" space for a matching Morgana Waterfall Faucet, and that's it – not even space for a soap dispenser. Then, the simple geometric combination of the white square and the glass curve is perfectly elegant in it's simplicity.
5. For a larger bathroom and a little more space to spare, one might want to opt out of the wall mount vanity variety entirely for something with more conventional storage space. That said, one doesn't have to give up on the aesthetic to do it. Instead, a full sized modern bathroom vanity, like the Suspended Glass Counter WT9119-R vanity by Legion Furniture offers a lot of storage and style at the same time. Any combination of dark or black finished wood, stainless steel, and glass are a good place to start when planning a modern design, and this vanity hits on all three. The suspended all-glass vanity (including integrated double sinks) is especially snazzy, offering a cross-sectional view of the sink bowls suspended by steel cylinders against a black backdrop – all simple lines and contrasting textures.
6. The vanity in a modern styled bathroom is also a great place to have a little fun. For example, the Flower Power WA3153 vanity by Legion will add a little pattern to the modern design. Again playing on contrast, and evening out the loud flower-burst pattern with the shiny polished stainless steel legs, this vanity would fit right in to a black and white bathroom design.
7. Some modern bathroom vanities are just plain funky – in a good way. For example, the Ola vanity from LaToscana is practically gravity defying – a simple, large counter area (with one HUGE slow-close drawer for tons of storage) balanced on one tiny little stand that seems to impossibly hold up the whole vanity for an outrageously eye-catching and unconventional effect. Of course, the vanity is mounted, which means the effect is largely an illusion.
8. The vanity doesn't have to be way "out there" to be considered modern or to work in a modern bathroom. The York Vessel Vanity from Hardware Resources, for example, is neutral enough to work in just about any style bathroom, but the espresso finish and simple geometric drawer and door pulls, and especially the heavy, very thick white porcelain sink make for a great contrast, and are just sleek and eye catching enough for a modern urban style setting.
9. In fact, some of the most stylish modern bathroom vanities have a vintage flair in them. Vintage-Inspired modern vanities take the silhouette of a vintage powder-room style vanity and strip away all the ornate carving and antique hardware and finishes expected from a period style. In it's place, there's nothing but a sleek, slightly glossy finish and simplified curves that guide the eye without making the space seem decadent or lavish. Sometimes the most beautiful modern designs are riffs on vintage decadence, deconstructing the design to it's most basic elements for a dramatic effect. For example: Iotti Vanity NB1 From Boheme Collection, or 203057B Black modern vanity from Bellaterra.
10. One of the best things about a modern design is that so much of the decor is modular. Vanities like the Modular Double Vanity HYP-0218-92 by Silkroad Exclusive, are made to be flexible, whether one needs a single vanity, a double vanity, or either one with a load of extra storage, the pieces can be bought individually to total the size, shape, and storage needed. Modular modern bathroom vanities are easier to move, easier to fit through doorways, and assemble completely seamlessly.
HomeThangs.com is not only a home improvement superstore, it also provides expert design tips and a comprehensive shopping guide, taking the ideas from professional interior designers, and offering tips to the consumers on how to pick the products to best suit their needs.