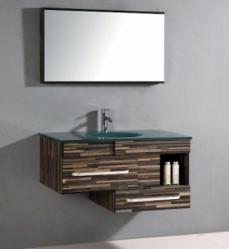 If there's any room in a home that should epitomize R&R, it should be the place to unwind, take a long soak, wash the day's cares away… and maybe stop to smell the flowers.
(PRWEB) October 26, 2012
HomeThangs.com – the Home Improvement Super Store has made their goal to deliver the right product to the consumer, with that in mind, shopping and home design tips, as well as special product selections are being introduced.
Taking into consideration pitfalls of a modern bathroom decor – it can be a little cold and a little impersonal, - HomeThangs introduced a shopper's guide to unique wall mounted bathroom vanities, where the different form gives them a little more room for innovation.
1. White Lacquered Vanity from Legion Furniture for example: as with many wall mounted bathroom vanities, its compact size allows for an unconventional design. The vanity itself isn't quite as deep as the built in sink, which creates a cool, curvy protrusion that's mirrored in the curved bottom edge and the round, belt-buckle style door handles. Plus, the materials go a step further, playfully mixing and matching a the light maple wood with the slightly glossy finish on the doors and the subtly reflective porcelain sink and counter top – much warmer than a conventional modern, industrial palette.
2. Zebra Wood wall mounted bathroom vanity from Bellaterra has a similar belt-like (though slightly more bedazzled) handle, but plays up the curves in the shape of the vanity itself rather than the sink, counter, or smaller accents. Rounding off the edges has the effect of softening the space. With such a strong emphasis on geometric shapes and straight lines, modern design can wind up looking pretty square. Mixing it up a little with wall mounted bathroom vanities that have a few curves can go a long way to making the space feel more comfortable.
3. Changing the finish to something very light, almost unfinished looking (rather than the dark chocolatey browns, grays, and blacks typical of modern bathroom vanities) like WTB9010 Light Bamboo Vanity by Legion Furniture, can make a massive difference all by itself. Not only does the color help warm up the space and make it feel a little less industrial, but it can actually make the room more relaxing and laid back as well, like a spa style bathroom rather than a too-nice-to-touch magazine spread.
4. Even little changes, like the slightly lofted counter top on the Modern Wenge wall mounted bathroom vanity from Vigo Industries attract a little attention and help to make the most of the "modern" aesthetic. Because modern design means all smooth, minimal lines, the best way to customize the furniture and furnishings for a modern space is to play with white space. This vanity does so beautifully, creating a sort of geometric hourglass figure and emphasizing the floating look that comes built in to all wall mounted bathroom vanities.
5. Some alterations to modern wall mounted bathroom vanities are practical as well as stylish. Legion WTH9032 Wood Patterned vanity is interesting from the get-go with the variegated wood plank style finish, but the slightly staggered design is functional as well as innovatively asymmetrical. Dropping down the right side of the vanity allows a little more space to accommodate the plumbing while keeping two fully sized drawers intact.
6. Adding any pattern is a great way to make a modern wall mounted bathroom vanity the focal point of the bathroom. Bella Terra 804347 Walnut Vanity stripes the front face with repeating, scalloped strips, adding some much-needed texture to an otherwise rather dismally square vanity. Such vanity will spice up a modern decor that's merely ordinary.
7. Legion WA3154 Flower Power wall mounted bathroom vanity is nothing if not bold, but for the right person and the right bathroom, those slightly-silly sketched flowers are the bathroom's equivalent of loosening the tie, unbuttoning a few buttons, and letting the hair down – which is exactly what a bathroom should be. If there's any room in a home that should epitomize R&R, it should be the place to unwind, take a long soak, wash the day's cares away… and maybe stop to smell the flowers.
HomeThangs.com is more than just a Home Improvement Superstore. They're constantly seeking to provide homeowners and designers with the right products at competitive prices. With a wide selection of products, expert design tips, and comprehensive shopping guides, Homethangs is a company that's there at all stages of the design process, from idea to execution. It's their goal is to make dream remodels doable.