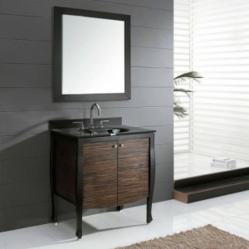 Many bathroom vanities balance and blend many design elements, and provide a venue for new unique and eclectic takes on conventional styles.
(PRWEB) July 21, 2012
HomeThangs.com – the Home Improvement Super Store has made their goal to deliver the right product to the consumer, with that in mind, shopping and home design tips, as well as special product selections are being introduced.
Some homes are so architecturally distinct that they dictate the way to design inside. Victorian, Cape Cod, cottage style, and ranch homes all come with set, expected interior decor, just to name a few. But if a home doesn't conform to any particular structural form, there is a lot more freedom to choose any decor. Although, it can be difficult to choose a single style, and effectively executing an eclectic design isn't easy. Especially when it comes to bathroom design, many people are torn between decadent vintage styles and a simpler, sleeker modern design. The opulence of a period bathroom is great for a little R&R, but modern bathroom design often makes for a cleaner finish.
HomeThangs.com introduced a selection of bathroom vanities that combine both styles - they have all the minimal, slightly surprising design expected from modern bathroom vanities, but are made in simplified antique and vintage shapes for a modern take on classical elegance. Designers at HomeThangs highlighted the key elements of successfully mixing the two styles together.
1. Antique-inspired shape and modern finish. A Vintage Inspired WA3037 vanity by Legion Furniture uses a dresser-like shape, but instead of keeping the elegantly curved legs, it opts to draw out the antique style in the curved bottom edges, and the slight but whimsical coiled handles. White bathroom vanities are a good way to fuse vintage and modern design. White is prominent in modern bathrooms, largely because the color is perfect for comparing and contrasting textures rather than shades. The slight gloss on a vanity, for example, will make it look clean, elegant, eye-catching, and unique when set against more antique white materials, like faux fur rugs, gauzy curtains, or even other white paint with a different level of shine.
2. Contrast. For a look that truly fuses modern elegance with classical decadence, a Modern Vanity like 203037-B by Bellaterra Home or Aubrey Vanity by Cole and Co should be put in a black and white bathroom. Contrast is key in modern design, and the higher the contrast, the bolder the look. Having a few dramatically vintage pieces, like a black clawfoot tub or a beautiful black accent chair can really ramp up the wow factor, making a space look incredibly elegant, even if all the elements are relatively simple in design.
3. Texture. The Studded Black Vanity 203057B by BellaTerra is, in one sense, one of the more traditional vanities on this list, with the shape of a French Regency dresser from head to toe… except for the spiky, glossy black studs that cover the entire front face of the vanity. This vanity does dramatically merge two styles.
4. Balance between the vintage and modern. Whenever two styles are merged, tub, lighting, sink, or even tile or window dressings can push the needle in one direction or the other, but classical/modern bathroom vanities can mingle the two styles in a lot of different ways as well. While the studded vanity has the shape of an antique piece, it probably couldn't mesh with a more conventionally period inspired bathroom. The Antique Console Vanity BF80010R by Belle Foret, on the other hand, is more authentically vintage. Even though it is a simplified design, it has more intricate detailing on the edges than many similar transitional bathroom vanities, as well as the antique style legs. Here, the black finish is the most modern element.
5. Wood finish. The Venisia VENISIA-V30-BK bathroom vanity by Avanity keeps the curved legs and feet and the arched bottom edge of some similar vanities, but instead of a pure black or white finish, it opts to accent the black legs and counter with a dark wood grain finish. Though the doors themselves are made of MDF, not real wood, the effect is striking – like a dramatic accent wall, the horizontal wood grain works equally well to tie in vintage wood elements or as an echo for more modern elements, like striped fabric or animal prints.
Many bathroom vanities balance and blend many design elements, and provide a venue for new unique and eclectic takes on conventional styles. With so many modern bathroom vanities to choose from, creativity is really the limit.
HomeThangs.com is not only a home improvement superstore, it also provides expert design tips and a comprehensive shopping guide, taking the ideas from professional interior designers, and offering tips to the consumers on how to pick the products to best suit their needs.